Liposuction
What Is Liposuction?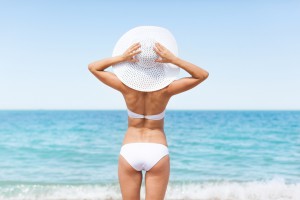 Most men and women seek a fit and well-proportioned body. Orange County plastic surgeon Daniel C. Mills, MD sees patients every day in consultation that complain that some areas of their body are just resistant to change, even with the strictest of diet and exercise programs. As an option to sculpt these areas and remove excess fat, Dr. Mills offers lipoplasty or liposuction. Liposuction is not a weight loss program; in fact, there is a maximum amount of fat (5000 cc) that can safely be removed in one procedure. However, liposuction can be an ideal solution to treat those "problem" areas that are disproportionate to the rest of the body. Liposuction is most effective for men and women of normal weight who simply want to improve their body contour.
Dr. Mills can use liposuction to:
Slim the hips and thighs
Flatten the abdomen
Sculpt the chin
Shape the calves, love handles, back, ankles, knees, or upper arms
Most patients who have this surgery feel more confident in the way they look and how their newly-sculpted body fits into clothing.
How Does the Liposuction Procedure Work?
Dr. Mills uses several different liposuction techniques or combinations thereof to achieve optimal results. Dr. Mills always uses the tumescent technique, in which the fat is pre-injected with a sterile saltwater solution containing small amounts of adrenaline and local anesthetic. In addition, he may recommend suction-assisted lipectomy (SAL), ultrasonic-assisted lipectomy (UAL) or power-assisted lipectomy (PAL), depending on your specific needs and fibrousness of the area to be treated. SAL involves making a tiny incision or incisions near the treatment area. Wherever possible, Dr. Mills places the incisions within natural folds or contour lines to hide them. Dr. Mills places a slim, hollow tube called a cannula through the incision, so that its tip penetrates the underlying fat. By contouring with one or multiple cannulas, Dr. Mills vacuums the fat into a suction pump. He pays close attention to the measurements, the 3-Dimensional contours, and fat removed to achieve optimal symmetry.
UAL has gained much popularity in recent years because it aids in skin contraction. This form of liposuction contracts from underneath the skin and works very much like a laser on the facial skin. This technique involves a two-step process that uses the energy from sound waves to liquefy the fat prior to suctioning. As such, Dr. Mills is able to more effectively extract the fatty tissue from an area. Dr. Mills uses PAL to treat very fibrous or scarred areas, such as the back, flanks and above the belly button. Dr. Mills is adept at using this new technology and has seen a more even result in fibrous areas.
Liposuction can help you achieve a well-proportioned figure. View our plastic surgery before-and after-photo gallery to see our results. Dr. Mills looks forward to meeting you in consultation to develop a surgical plan that best suits your needs. He will let you know which technique is more ideal for your particular case based upon your goals, medical history, and skin texture and turgor. In the meantime, please feel free to email our patient coordinator through our contact us page with any specific questions that you might have about liposuction.
Before Surgery
Typically two weeks prior to surgery, you will meet with our pre-operative coordinator to review all of your pre-operative instructions and make sure that you complete all the necessary laboratory tests and health screenings. If you are a smoker, Dr. Mills will recommend that you quit smoking at least two weeks prior to surgery and not to resume for at least two weeks after your surgery. Additionally, there are certain medications, herbs and potions that your pre-operative coordinator will ask you to cease taking from several weeks prior to your surgery to several weeks after your surgery. Your pre-operative appointment will also be a time for you to ask any final questions, so that you are fully prepared for surgery and your recovery period.
Day of Surgery
Upon admission to the facility, you will spend about an hour with a nurse who will prepare you for surgery. Your surgical and recovery time will vary, depending on the number of areas to be treated. During your surgery, you will have a team of people caring for you. Dr. Mills' team includes a nurse anesthetist, registered nurse, and surgical technician. Dr. Mills has been working with most of these staff members for many years, and some since close to the beginning of his practice. You will need a responsible adult to accompany you to our facility and be available via phone, so that we can alert them of your discharge time. Additionally, you will need someone to stay with you for the first 24 hours after your surgery.
Additional note: One development in medical research that Dr. Mills participates in conjunction with liposuction is stem cell banking. Stem cells are present in adipose or fat tissue and can be extracted during your liposuction procedure. Medical researchers anticipate that stem cell research will likely yield future treatments in key areas of medicine, possibly enabling doctors to cure some diseases, injuries, and the effects of aging. If you would like to learn more about stem cell banking, our surgeon will be happy to answer your questions.
What Can I Expect During Liposuction Recovery?
After your surgery, you will wear a tight surgical garment that will help "set" your new body shape. This garment can be removed for short periods of time in your first post-operative week for showering, but should be worn at all other times for four to six weeks. Dr. Mills will advise if and when you can switch to a lighter garment, such as spanx. It is important that you wear the surgical garment as advised because it provides the necessary support for the skin and tissue to re-drape the newly contoured line. Furthermore, it is important that you keep all post-operative areas free of creases and wrinkles throughout the healing period to achieve the smoothest skin contour possible. Dr. Mills will advise you not to sit upright, especially if you have had liposuction to your stomach. He recommends standing or lying down to decrease the risk of any unnecessary creases from forming.
Dr. Mills will advise that you return for a follow-up visits at 5 days, 2 weeks, 1 month, 3 months, and 6 months post-operatively. You will likely have some bruising to the surgical areas, but these should completely fade within the first couple of weeks. Dr. Mills advises that you keep your surgical area out of the sun for at least eight weeks to avoid permanent bruising and discoloration. Additionally, you might note a slight weight gain in the first few days and even weeks after surgery. This is most likely due to fluid replacement, retention, and swelling and should subside in the first couple of months.
Within several days after surgery, you should be able to go back to your normal routine. You can start walking and do light workouts within two weeks from your surgery. Dr. Mills will advise you on when you can resume more strenuous workouts. You can expect to return to work after about one week.
You can expect:
To drive after 3 – 5 days (after all pain medication has been discontinued).
To resume normal activities after several days.
To resume light aerobic activity after 2 weeks.
To see bruising for the first month.
To experience mild to moderate pain.
To wear a compression garment for 4 – 6 weeks.
To visit our office post-operatively at 5 days, 2 weeks, and 1, 3, and 6 months, and 1 year post-operatively.
How Long Do Liposuction Results Last?
Most patients see a noticeable difference in their body shape after about two weeks. As the swelling subsides, you should continue to see more definition and change. Generally, patients see their final results after about three months.
Is Liposuction Safe?
Liposuction has been a very common and popular cosmetic enhancement option for many years, and advances made in liposuction technology and techniques have made it possible for this treatment to be performed very safely by experienced professionals. Although liposuction is a surgical procedure and there are risks associated with the treatment (described below), Dr. Mills has successfully performed liposuction for many patients and will take great precautions to make this surgery as safe as possible.
Are There Any Risks or Side Effects of Liposuction?
All surgical procedures involve some degree of risk; however, Dr. Mills is highly experienced with liposuction procedures and takes extensive precautions to minimize the potential for complications. Risks of liposuction surgery include infection, blood clots, and excessive bleeding. Dr. Mills will talk with you about the risks of this procedure before the operation. You will also be given detailed post-operative instructions and follow-up appointments will be scheduled to make sure you are healing safely and properly.
The extent of side effects from liposuction will depend on the size and number of areas being treated. Side effects typically include some level of bruising and swelling in the treatment areas, which should fade over time. Any discomfort in the days following liposuction can be managed with medication.
How Noticeable Are Liposuction Scars?
One of the major advantages of liposuction surgery is that the incisions required for the procedure are typically quite small, resulting in scars that are usually barely noticeable. In addition, the incisions can often be placed in relatively inconspicuous locations, depending on which area of the body is being treated.
Are There Alternatives to Liposuction?
Some individuals may not be candidates for liposuction, while others may simply desire a less invasive treatment option. In these cases, an alternative to liposuction may be an effective choice, depending on each patient's unique needs and goals. Our practice offers a range of advanced treatments that can an ideal option for the right patient. CoolSculpting® is a non-surgical liposuction alternative that can provide gradual reduction of excess fat in certain body areas. For patients who are primarily interested in removing excess fat that has collected under the chin, a treatment such as KYBELLA® may be sufficient to achieve those goals. KYBELLA® is an injectable procedure that utilizes a special solution to reduce fat cells in the upper neck area, which can ultimately help patients who are experiencing a "double-chin" caused by excess fat. Dr. Mills can talk with you about all of your options once you have been evaluated in the initial consultation.
How Much Does Liposuction Cost?
Since liposuction is a customized procedure, the overall cost will be different for each patient. There are a variety of components that go into calculating the final cost of liposuction, including the number of areas, the location of areas being treated, the amount of fat that is being removed, the surgeon's fee, facility fees, and other factors. Dr. Mills' surgeon fees are approximately $2,500 for the first area and $1,800 for each additional area. Facility and anesthesia fees are determined based on the total operative time. At your consultation, Dr. Mills will create a customized treatment plan and our staff will provide you with a written quote. 
We accept a variety of convenient payment options, and qualified applicants can finance a portion of the fees through financing company PatientFi™. We will assist you with finding the way to pay for your liposuction procedure that best fits your needs and budget. 
Additional Frequently Asked Questions About Liposuction
Does liposuction help with cellulite?
No. Cellfina™ is an advanced technology available at our practice that can be very effective at treating cellulite.
Does liposuction tend to redistribute your weight to other areas of your body?
This is true if you gain weight after surgery. You will tend to gain weight in areas other than the areas treated by liposuction. As such, we encourage our patients to continue to diet and exercise after the surgery. Remember, liposuction is not a method of weight loss, but more of a solution to treat your "problem" area(s).
Will I hurt after surgery?
Since patients have different tolerance levels, we have seen varied post-operative pain levels. Some patients have said that liposuction felt sore, like the aftermath of an intense workout. Some patients have commented that recovery was very painful. In many cases, post-operative pain can be well-managed with medication.
How much time do I need off of work?
This will depend on your type of work. If you have a desk job, you will only need about five days off.
How old do you have to be to get liposuction?
Individuals must be at least 18 years-old to undergo liposuction surgery.
How much fat can be removed with liposuction?
Small, moderate, and large quantities of excess fat in localized areas can be removed via liposuction. In cases where significantly large amounts of fat are to be removed, it may be recommended that the liposuction procedure take place as a series of staged appointments—removing a certain percentage of fat during each treatment session—in order to minimize the potential for complications. Once Dr. Mills has examined you during the initial consultation he can talk with you about whether a single liposuction procedure or a staged series of appointments will be necessary.
How can I reduce swelling after liposuction?
Patients can expect swelling in the treatment areas after liposuction, which is a common and temporary side effect of this procedure. Compression garments provided by our practice can help control swelling during the recovery period. Minimizing salt intake and alcohol while recovering from liposuction can also help reduce swelling. Dr. Mills can also talk with you about VASER® Shape, which can be included as an adjunctive procedure with liposuction to help enhance results and minimize swelling during recovery.
Dr. Mills is confident that he can provide you with the new body you have been looking for. For more information about liposuction, or to schedule a consultation with Dr. Mills, please contact the Aesthetic Plastic Surgical Institute today.