How to Get Rid of a Double Chin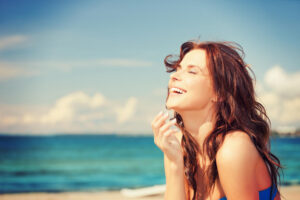 Many individuals believe that the appearance of a double chin is caused by weight gain. Although weight gain can be a factor, your age, diet, posture, and genetics can all contribute to the appearance of a double chin. Luckily, there are a variety of options when it comes to getting rid of a double chin. Dr. Daniel Mills and our team at Aesthetic Plastic Surgical Institute offer surgical and non-surgical treatments to reduce the unwanted excess fat or inelastic skin in the upper neck region. Here are a few options that may be recommended to you based on the primary source of your aesthetic concern:
KYBELLA®
A popular non-surgical approach to getting rid of a double chin is KYBELLA®.  KYBELLA® is an advanced injectable solution that can dissolve the excess fat in the upper neck area and improve neck contours. This option can be ideal for individuals with a double chin due to excess fat, not due to excess skin in the neck area. The procedure usually takes 30 minutes and the results can last decades with the proper diet and exercise.
Liposuction
Neck liposuction is a highly popular surgical option that is often suited for individuals with severe excess fat in the neck that is unevenly distributed. During neck liposuction, a small hollow cannula is inserted into the treatment area to suction out the excess fat cells. For people who have a hard time getting rid of fat through dieting and exercise, liposuction may be a great solution since it can remove stubborn fat under the chin and sculpt the areas around the neck. 
Neck Lift
Individuals who want to get rid of inelastic skin on the neck may be recommended a surgical facelift/neck lift. In some cases, a standalone neck lift may be appropriate. These treatments can be ideal options to get rid of a double chin caused by loose, excess skin rather than excess fat. Dr. Mills eliminates inelastic tissue and tightens the remaining skin so patients can have a more youthful and contoured appearance that can last many years.
There are many options to choose from when it comes to diminishing the appearance of a double chin. Dr. Mills can help you determine which procedure is best for your needs and aesthetic goals. Please contact our practice to schedule an in-person or virtual consultation.
Contact Us Today!
For more information, or if you wish to schedule a consultation with Dr. Mills, please don't hesitate to contact our office today.
Contact Us