Thigh Lift (Thighplasty)
Many women are concerned about laxity and looseness of the upper thigh area. This can be a result of significant weight loss or simply loss of skin elasticity over time. Also the quality of the skin can change due to collagen damage from sun exposure.
Offered by board-certified plastic surgeon Daniel C. Mills, MD, the Thigh lift procedure is designed to remove excess skin, achieving attractive looking upper legs. Many patients state that they would not wear shorts or a bathing suite because of the loose skin on the upper legs. After the thighplasty procedure they have renewed confidence in their appearance and begin wearing clothing they previously avoided.
Thigh Lift Procedure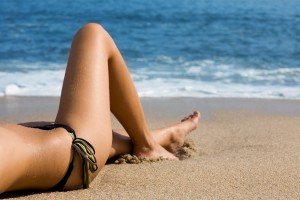 There are different types of thigh lifting procedures. For those that complain of the excess skin on the outer thighs, a Lateral Thigh Lift procedure targets that area. This procedure is designed to tighten skin on the front and the sides of the leg. The incision is made at the top of the leg. Dr. Mills will discuss the location of the incision in detail with you at the consultation. He will demonstrate how removing the excess skin will achieve a tighter, more youthful looking leg contour.
An Inner Thigh Lift (Medial Thigh Lift) reduces skin laxity and removes excess skin at the upper area of the inner thigh. For the medial thigh lift the incision is made in the groin and extends back toward the crease of the buttock. The excess skin is removed resulting in improved shape and firmness to the inner thigh.
What to Expect
The process begins with a comprehensive personal evaluation and discussion with Dr. Mills. At the time of your consultation Dr. Mills will listen to your concerns and provide you with options to achieve your goals.
About two weeks prior to surgery, you will meet with our pre-operative patient coordinator. She will review all of your pre-operative instructions with you and make sure that you complete all the necessary lab tests and health screenings. If you are a smoker, you will be advised to quit smoking at least four weeks prior to surgery and not to resume for at least four weeks post-operatively. Additionally, there are certain medications, herbs and potions that we will ask you to cease taking for two weeks prior to surgery and up until two weeks post-surgery. This appointment will also be a time for you to ask any final questions, so that you are ready for surgery and have an optimal recovery period.
Surgery
On your day of surgery, you should allow approximately 3 – 4 hours for your surgery. From the moment that you enter our facility, you will be cared for by Dr. Mills' experienced surgical team. This team includes Dr. Mills, a nurse anesthetist or anesthesiologist, a registered nurse and surgical technician. This group is committed to providing you with the best care possible from the time you are admitted to the moment you are discharged. Dr. Mills has worked with some of these surgical team members since the beginning of his practice and all members share in his core values and patient care standards.
You will be required to stay at our overnight facility with a post-operative care nurse after your surgery. The nurse will closely monitor you, administering your medications and assisting you with walking. You will need to have a responsible adult pick you up the morning following your surgery and stay with you the next 1 – 2 days. Once home, we encourage you to get up and move around the house at frequent intervals to keep the blood circulating. This process will become easier with time and practice. Dr. Mills will also likely recommend the use of an oxygen tank for the first week following your surgery, as he has seen faster healing and reduced scarring with the use of oxygen.
Post-Operative Information
Within several weeks after your surgery (after your final sutures have been either removed or dissolved), you can increase your activity level. Recovery time varies; we have seen some patients bounce back quickly, returning to work after 10 days. Others take about three weeks to resume normal activities. Dr. Mills typically recommends mild exercise after 2 weeks, as it will aid healing, reduce swelling, lower the chance of blot clots, and help tone muscles. You should avoid vigorous exercise until Dr. Mills indicates that you are ready.
Scars are, unfortunately, one aspect of thigh lift surgery that patients must weigh against the benefits of eliminating excess fat and skin tissue. Your incision site may appear to become more red in the first 3 – 6 months as it heals. This is normal and should fade with time. You can expect your scars to flatten out and lighten in color after about 9 months to a year. While the scars will never disappear completely, Dr. Mills tries to place your incisions so that the scars are concealed by your clothing, including most bathing suits and low-rise jeans.
If you are looking for tighter and more pleasing contour for your thighs, we are confident that we have a solution for you. We look forward to meeting you in consultation to further discuss your needs. In the meantime, feel free to email any questions to our patient coordinator from our contact us page. Let us know how we can best serve you, we want this to be a great experience for you and are confident that you will can meet and exceed your expectations.
You Can Expect:
To drive after you are completely off your pain medications, which is usually about 7 days, providing you feel competent in your ability to operate your vehicle.
To use oxygen for the first week post-operatively.
To use a drain for about the first week post-operatively.
To resume normal activities after 2 – 4 weeks, depending on how you heal.
To avoid strenuous workouts for the first 3 – 4 weeks after surgery.
To visit our office post-operatively at 2 days, 5 or 7 days, 2 weeks and 1 month. (We also recommend annual follow-up visits.)
To see your scars fade after about 9 – 12 months.
Schedule a Consultation
For more information, or to learn about other body-contouring procedures like traditional liposuction, please contact Dr. Mills to schedule a complimentary consultation.