Breast Implant Exchange
Breast Implant Exchange (Revision Breast Augmentation)
Many women choose to undergo a breast augmentation procedure to add volume and fullness to the breasts, aesthetically enhancing their body's proportions. However, it is not uncommon for women to want to exchange their implants over time. This can be accomplished with a revision breast augmentation procedure. Some patients choose to switch from silicone to saline; others from saline to silicone. Still, there are those who prefer to simply increase or decrease the size of their breast implants. The process is very common and can be far less time-consuming than the original augmentation procedure. Regardless of the reason, board-certified plastic surgeon Dr. Daniel Mills will take $1,000 off the physician's fee for all current patients returning for an exchange.

Dr. Mills urges women who have implants, whether they be silicone or saline, to get them checked on a consistent, interval basis since they are not lifetime devices. He recommends changing your implants about every 10 years.
Implant Exchange Due to a Rupture or Leak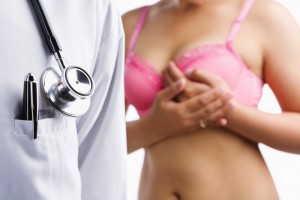 On average, breast implants last roughly 10-15 years before the risk of possible rupture heightens considerably. Certain implant breakage/leakage, such as with silicone implants, can lead to a late capsular contracture, or a buildup of scar tissue, resulting in a more difficult implant exchange.
Saline ruptures are easy to detect because a deflation in the implant will typically be immediately noticeable, and the implant will need to be changed within two weeks after breaking to avoid further complications. Silicone implant breaks are often hard to diagnose without a mammogram or MRI, making regular check-ups even more essential. Being proactive about changing your implants before a rupture can often result in a faster and easier recovery period.
What Are the Breast Implant Exchange Procedure Options? 
Saline to Silicone
Perhaps you are not satisfied with the feel of your current saline implants. Maybe you are looking for a more natural look. Or perhaps, you have had your implants for a number of years and you are being proactive about exchanging them before any ruptures or leaks can occur. Whatever the reason, Dr. Mills can switch your implants from saline to silicone in an outpatient procedure. Under general anesthesia, your current implants can be replaced with new, silicone implants using the same incision point from the initial breast augmentation. Any scar tissue that may have formed around the implant is typically removed during the process. Due to the weight of the original saline implant, you may need to slightly increase your breast size as silicone implants of the same number factor shell-weight into their size.
Silicone to Saline
You currently have silicone implants, but you are possibly interested in switching to saline. Dr. Mills is able to remove your silicone implants and replace them with saline implants during the same procedure. Along with the extraction of your current implant, the outpatient procedure may also consist of the removal of some surrounding muscle tissue under general anesthesia. Special care is taken to ensure the smallest incision size possible.
Increase Implant Size
Maybe you love your current type of implant, but you wish to increase your breast size even more. Dr. Mills will help you determine what size implant is best to meet your goals, while considering safety issues and overall appearance. He uses general anesthesia to replace your current implant with your desired new size in a single outpatient revision breast augmentation procedure. Surgery times often vary depending on the extent of the procedure. Whether silicone or saline, Dr. Mills pays close attention to every detail to make certain your breasts are as symmetrical and natural-looking as possible.
What Can I Expect During Breast Implant Exchange Recovery? 
Women who have had an implant replacement may need to wear compression garments over the breasts for a brief period to aid the healing process. You can expect minor swelling and bruising for a few weeks after the procedure, but medication can be used for discomfort. Recovery time varies among individuals, but Dr. Mills generally recommends patients return to normal daily routines within a few days following surgery and refrain from strenuous activities for at least six weeks to avoid any harm to the breasts.
How Noticeable Are the Scars After Revision Breast Augmentation? 
In many cases, revision breast augmentation and breast implant exchange procedures can be performed utilizing the incision location made for the initial breast augmentation surgery, depending on the implant placement technique used in that operation. This means that there should be no additional scarring other than the scar that was already there. Dr. Mills is highly skilled with these types of procedures and will make every effort to ensure any residual scarring is as minimal as possible.
How Much Does Breast Implant Exchange Cost? 
The total cost of breast implant exchange and breast revision surgery procedures can vary between patients based on individual needs and goals; however, Dr. Mills is offering $1,000 off the physician's fee for existing patients who return for an exchange, and is happy to speak to anyone interested in a breast implant exchange in a private doctor-patient consultation. The final price of breast implant exchange will be calculated based on a number of factors, such as the complexity of the operation, the costs associated with the replacement breast implants, fees for anesthesia and use of the surgical facility, and other components. Once Dr. Mills has evaluated your needs and goals in the initial consultation and a treatment plan has been developed, a member of our team will produce a total cost estimate of the procedure and talk with you about payment options. The Aesthetic Plastic Surgical Institute accepts many different forms of payment, and we work with a plastic surgery financing agency that offers qualified applicants an array of convenient payment plan options. We will be happy to talk with you about the ways to pay for revision breast augmentation that are best for your budgetary needs.
To schedule a consultation to discuss your options, please contact us today.