Facelift
Both men and women complain that they cannot stop the hands of time. From sagging eyelids and facial skin to a droopy neckline, Dr. Mills sees many patients that desire to reverse the effects of age on their face and neck. Most patients say that their wrinkles and sagging skin do not reflect their youthful spirit and energy level. They consult with Dr. Mills for options to refresh their look. Dr. Mills performs many variations of rhytidectomy, or facelift surgery, to smooth out the loose skin of the face and neck, tighten the underlying tissues and muscle and remove any excess skin. Ultimately, a facelift will allow you to turn back the hands of time and better reflect your youthful spirit.
Facelift Procedure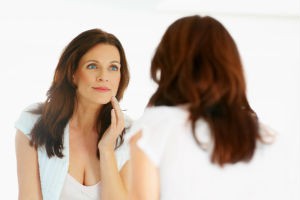 There are several surgical options that Dr. Mills performs and each addresses a different area of the face. The first option is the Sub Muscular Aponeurotic System (SMAS) facelift. This facelift is often the most effective and longest-lasting means of addressing jowling, facial wrinkling and excess skin to the face and neck. This procedure is especially effective in addressing the issue of a turkey-gobbler neck. We all know how time can cause the facial skin to sag and lose its elasticity. Dr. Mills uses the SMAS facelift to lift and secure the sagging skin and underlying muscle structure to a firmer and smoother position across the face and neck. The incisions are inconspicuously hidden in the natural contour of the ear and extend around the earlobe and back into the hairline. There is also a tiny incision under the chin.
If you are experiencing a flattening out of the mid portion of the face, Dr. Mills will likely suggest a Midface suspension. This type of facelift literally repositions the cheek fat pads, which over time become low and less prominent. The Midface suspension also reduces and smoothes out prominent naso-labial folds. Dr. Mills places small incisions in the hairline and at the lower eyelash line. Of all the facial rejuvenation procedures, the Midface suspension generally yields the most dramatic results. This procedure will actually change your look a bit.
Dr. Mills can perform the SMAS and Midface suspension either individually, together or in conjunction with other facial procedures that will enhance the entire face. Oftentimes, Dr. Mills will combine a facelift with blepharoplasty (eyelid surgery) to address droopy or puffy eyelids. Dr. Mills can also add the volume that your lips have lost over time with fat transfers or smooth out the fine lines around the mouth with dermabrasion. Additionally, Dr. Mills can correct any sagging forehead skin with a coronalplasty (browlift). Just let Dr. Mills know what facial enhancements you are looking to achieve and he will tailor a surgical plan to give you the rejuvenated look that you desire.
View our before and after photo gallery to view our results. If you would like more information about the facial rejuvenation procedures that we offer, please contact Aesthetic Plastic Surgical Institute.
What to Expect
During the consultation and other pre-operative visits, Dr. Mills will walk you through your particular facelift design. Dr. Mills places high importance on your goals, physical examination and medical history. During your physical examination, Dr. Mills will assess your facial bone and underlying tissue structure, skin thickness, texture, and elasticity and the extent of facial wrinkles and folds. Dr. Mills will use all of this information to tailor a surgical plan that best suits your features.
Typically two weeks prior to surgery, you will meet with our pre-operative coordinator and Dr. Mills to finalize all of your surgical details. Your pre-operative coordinator will review all of your pre-operative instructions and make sure that you complete all the necessary laboratory tests and health screenings. If you have not done so within six months prior to your surgery date, you will need to have a medical evaluation (EKG, etc.) If you are a smoker, you will be advised to quit smoking at least one month prior to surgery and not to resume for at least one month after your surgery. Additionally, there are certain medications, herbs and potions that your pre-operative coordinator will advise you to cease taking from several weeks prior to several weeks after your surgery. We have vitamins and medications that will aid in your recovery by minimizing inflammation and swelling. These supplements are completely optional, but are available for purchase should you desire. It is really important that you follow all Dr. Mills' instructions diligently to optimize your surgical results and recovery period. Your pre-operative appointment will also be a time for you to ask any final questions, so that you are physically and mentally prepared for your surgery and recovery period.
Surgery
On your day of surgery, you will be cared for by an experienced surgical team that includes Dr. Mills, a nurse anesthetist, a registered nurse and surgical technician. Dr. Mills has been some members of his surgical team since the beginning of his practice. Each person has a unique role in your surgery, but each individual shares in Dr. Mills' philosophy and commitment to superior patient care standards.
Your surgical time will depend on the combination of procedures that you elect. You will likely be required to stay at an overnight facility, under the supervision of a specialized and experienced aftercare nurse. As her only patient, she will change and refresh your facial ice packs, administer medications and oxygen and assist you with your snacks and walking. After a night of constant monitoring, you will be discharged the following morning. At this time, you will need someone to pick you up and care for you for the next 48 hours.
Prior to your discharge, your bandages will be changed from a full head wrap to a lighter wrap. Dr. Mills will remove the light head wrap on your second day post-operatively. Additionally, we will assist you in washing your hair at this visit.
Post-Operative Information
Dr. Mills believes that oxygen therapy significantly promotes healing. As such, our office will make arrangements to provide you with in-home oxygen therapy after your surgery. The oxygen tank will be delivered to your house and picked up, so you do have to make any inconvenient trips. Dr. Mills will monitor your healing progress and advise you when to cease using the oxygen.
For the first week after surgery, Dr. Mills recommends an extra dose of rest and relaxation. You will need to keep your activity levels very light and sleep with your head elevated. You may shower once the bandages are removed, but you will want to be extremely careful with washing your hair. Dr. Mills will ask that you not comb or brush over your suture areas. You will likely see the swelling reach its peak and then begin to subside within the first week. Dr. Mills will have you come in for routine follow-up visits, including removal of your stitches at 7, 10 and 14 days post-operatively.
After a couple of weeks, most of your bruising and swelling should subside and you may resume your normal activities, including non-strenuous work. You can generally expect that you can exercise after several weeks, but Dr. Mills will advise that you avoid direct sun exposure. You should always wear a hat and high SPF sunblock to protect your skin. (Dr. Mills will recommend that you consistently cover your face from sun exposure beyond the post-operative period to protect your skin and maintain your results.)
We understand it can be emotionally uncomfortable to be seen in public during the first couple of weeks after your surgery. While we know the healing will be worth the wait, we want to make this period as comfortable as possible for you. Our in-house aesthetician will apply some camaflouge makeup to cover any bruising and show you how to do this on your own. Additionally, she will set up an appointment for a complementary facial and review a regime to keep your skin looking radiant and beautiful.
We encourage you to come to our office for routine post-operative visits for the first six months so that Dr. Mills can evaluate your progress and healing. Between these checkups, we want you to call us with any questions, needs, or just to keep in touch. Dr. Mills wants to build a long-term relationship with his patients, so we always welcome on-going communication.
With facial surgery, potential complications may include hematoma, delayed wound healing, infection, numbness and wide or depressed scars. It is crucial that you attend all follow up visits and maintain a restful post-operative period to minimize the occurrence of any potential complications.
Dr. Mills understands that this is likely a very significant decision in your life. He looks forward to meeting you to hear your specific needs and discuss how he can refresh your appearance. We would also happily connect you with past patients so that you can ask them questions about their experience. In the meantime, we welcome any questions that you might have via email or phone. You can call our office or contact our patient coordinator through our contact us page. It is our practice philosophy to strive to provide every patient and prospective patient with the best service and care possible, so please let us know how we can best serve you.
You can expect:
To require assistance for the first 2 – 7 days following your surgery.
To drive after 7 – 10 days.
To resume normal activities after about 10 – 14 days.
To resume any light aerobic activity after 1 month.
To see bruising and swelling subside after 2 – 4 weeks.
To take approximately 2 – 4 weeks off from work.
To feel a bit "down" for 2 – 3 weeks post-operatively.
To visit our office post-operatively at 3, 7, 10 and 14 days and 1, 3 and 6 months post-operatively. (We also recommend annual follow-up visits.)
To wear support stockings for 1 week after your surgery (or until you are moving normally).
To be on oxygen therapy for 6 hours per day for the first week post-operatively.
To see your final results at about 6 months, after your skin has contracted.
To feel tightness for the first 2 weeks (or until the swelling subsides).
Frequently Asked Questions
What areas of the face does a facelift treat?
Many people fear the word facelift; they think this procedure covers the whole face. A facelift covers the neck and jowls. If you have loose skin around your neck and/or some jowling around your mouth, then you are probably a perfect candidate for a traditional facelift.
Do I have to stay overnight?
Dr. Mills prefers that our patients stay overnight in a facility after a facelift. A nurse with ACLS certification will stay with you to administer pain and nausea shots or pills, change your icepacks, and monitor your overall recovery. Our nurse is also helpful in keeping you calm that first night, as the head dressing is bulky and can make some people feel claustrophobic.
Will my incisions be noticeable?
Dr Mills prides himself on his scars. He will hide the incision inside and behind the ear and in the hairline. Within a few months, the scars will most likely only be found by your hairdresser.
Will I be in pain after surgery?
Most of our patients would say that the procedure is not painful, but there is a lot of anxiety. Some patients do complain of some ear pain, but this can be treated with medication.
Will I be really bruised?
Most of our patients experience bruising for about 1-2 weeks. We do recommend an anti-bruising agent prior to surgery and will provide you with complementary camaflouge makeup to minimize the appearance of bruising.
How much time should I take off work?
You should plan on taking about two weeks off. If you have a more strenuous job, we recommend that you take a month off to fully recover from surgery and minimize any potential post-surgical complications.