Male Plastic Surgery
As cosmetic enhancement becomes more widely accepted to the general public in the U.S., more men are beginning to take advantage of the range of procedures available to them. Dr. Dan Mills offers a variety of cosmetic treatments and plastic surgery for men to enhance their appearance and achieve the body they have always wanted.
While Dr. Mills specializes in an extensive list of cosmetic procedures, his male patients often express interest in several traditional procedures, as well as many advanced, non-surgical procedures. Regardless of the procedure, Dr. Mills says his male patients' motivation for pursuing cosmetic enhancement is fairly similar to his female patients in that men are no longer satisfied with aging gracefully, and simply want to look as young as they feel.
Common Procedures for Men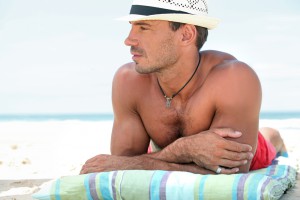 While Dr. Mills and his patients will discuss individual motivation for considering cosmetic enhancement and develop a treatment plan to meet their wants and expectations, there are several common procedures his male patients have traditionally decided to undergo. Whether a patient is looking for a subtle enhancement or a dramatic transformation, Dr. Mills is dedicated to providing the safest and most effective procedures no matter the aesthetic enhancement goals.
More and more men are pursuing cosmetic enhancement in an effort to bring their best to the table at the office and after hours. Visit our before and after gallery to view results. If you would like more information, or to schedule a consultation, contact the Aesthetic Plastic Surgical Institute today.
Facelift for Men
Dr. Mills recommends the facelift procedure for men who simply aren't willing to let the aging process run its course. Whether his male patients are bothered by sagging facial skin or a excess skin around the neckline, Dr. Mills helps patients rejuvenate their appearance and project their inner vitality.
Find more information on the facelift and how it can help you achieve the aesthetic appearance you want.
Eyelid Surgery for Men
Eyelid surgery or Blepharoplasty is a popular procedure for men at the Aesthetic Plastic Surgical Institute. Dr. Mills recommends this procedure for men that hope to address droopy or sagging eyelids that cause them to look tired.
Read more about how eyelid surgery can help you achieve a more refreshed appearance.
Rhinoplasty for Men
While many men enter the Aesthetic Plastic Surgical Institute hoping to correct changes brought about by the aging process later in life, some men have been unhappy with the facial balance and symmetry for many years. Because of the central positioning of the nose, Dr. Mills believes rhinoplasty or nose surgery can help men achieve the facial aesthetic they have longed for.
Find more information about the rhinoplasty procedure with Dr. Mills.
Male Breast Reduction
Gynecomastia is the medical term for excess tissue in the breasts in males that can cause men to feel self-conscious about their appearance and uncomfortable in their clothes. Dr. Mills builds an individual treatment plan for each patient to ensure his expectations are met with effective plastic surgery outcomes. With advanced male breast reduction surgery, Dr. Mills can recontour the chest for a flatter, more contoured appearance.
Learn more about Male Breast Reduction.
If you are curious about the procedure, or want to schedule a consultation with Dr. Mills, contact the Aesthetic Plastic Surgical Institute.
Liposuction for Men
Liposuction is another popular surgical procedure Dr. Mills performs for his male patients hoping to address stubborn pockets of fat that are resistant to diet and exercise. This procedures affords Dr. Mills the ability to sculpt and define his male patient's body contour in the chest, arms and back, tone and slim their abdomen, and improve the overall proportion and body contour.
Learn more about liposuction with the Aesthetic Plastic Surgical Institute.
Minimally Invasive and Non-Surgical Cosmetic Enhancement for Men
Dr. Mills specializes in a number of minimally invasive and non-surgical procedures for men at the Medical Spa within the Aesthetic Plastic Surgical Institute. Patients can tighten the skin's surface with a procedure such as Ultherapy®, or achieve a younger, more refreshed look with laser skin rejuvenation, BOTOX® injections, or dermal fillers.
For more information about these and other minimally invasive procedures, visit our Medical Spa services page.