DAXXIFY™ Frown Line Treatment


Cosmetic injectables continue to rise in popularity, with new variations of these treatments being developed virtually every year. From dermal fillers to neuromodulators and more, injectables are known for their ability to create a more revitalized and youthful-looking appearance without the need for surgery or excessive downtime.
Our Orange County plastic surgeon, Daniel C. Mills, MD, FACS, is committed to offering the most advanced surgical and non-surgical options in the industry. That said, Dr. Mills and the rest of our team at the Aesthetic Plastic Surgical Institute are excited to add DAXXIFY™ to our list of exclusive medical spa treatments. Our practice was one of the first to offer this innovative neuromodulator, which has proven to be one of the most effective and long-lasting injectables ever created.
What Is DAXXIFY™?
Manufactured by Revance® (the brand behind the famed RHA® Collection of Dermal Fillers), DAXXIFY™ is a neuromodulator injectable that was FDA-approved in 2022 to address frown lines (also known as "glabellar lines"). Like BOTOX® Cosmetic, DAXXIFY™ is primarily composed of botulinum toxin A, a potent substance that can temporarily inhibit facial muscles from contracting. While DAXXIFY™ was also designed to combat dynamic wrinkles, the addition of a novel peptide to its formula allows it to produce results that often last almost twice as long as those of other injectables – even BOTOX® Cosmetic!
What Are the Benefits of DAXXIFY™?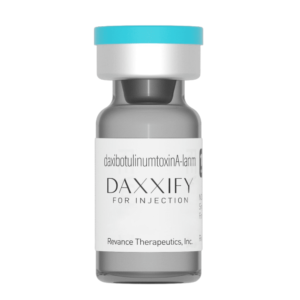 In the hands of qualified providers like Dr. Mills and his team, DAXXIFY™ can provide the following benefits:
A more youthful complexion
Significant reduction of moderate to severe frown lines
A more symmetrical facial aesthetic
Relatively quick, minimally invasive treatment sessions with little to no opportunity for complications
Results that last between five and six months
In addition, DAXXIFY™ is notably the first injectable of its kind to be free of human and animal byproducts.
What Does the DAXXIFY™ Treatment Involve?
Similar to BOTOX® Cosmetic, dermal fillers, and other injectables featured at our practice, DAXXIFY™ is administered with a very fine needle. If you so desire, a topical anesthetic can be applied before the injection to reduce pain, but most patients experience minimal discomfort (if any).
For best results, Dr. Mills typically recommends patients undergo DAXXIFY™ injections approximately every six months. These sessions generally do not take longer than half an hour, and patients are usually able to return to work right away.
How Much Does DAXXIFY™ Cost?
At the Aesthetic Plastic Surgical Institute, the cost of DAXXIFY™ is approximately $15.50 per unit; however, the final price can vary depending on:
The units administered
The number of treatment sessions
The team member (i.e. Dr. Mills or an MD associate) performing the injectable
The use of a topical anesthetic or numbing gel
We will determine a concrete price at the time of your consultation. Please note that we offer seasonal specials that often include popular treatments like DAXXIFY™. We also partner with PatientFi™, a third-party financier, to help eligible patients pay for their care in installments. Please feel free to direct any financial questions to a member of our team.
For more information about DAXXIFY™, our injectables, or any of our non-surgical or surgical treatment options, we welcome you to contact the Aesthetic Plastic Surgical Institute.