Surgical Facility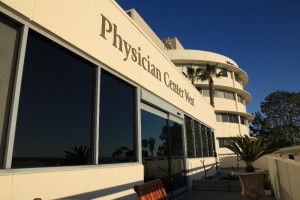 Board-certified plastic surgeon Daniel C. Mills, MD performs surgeries at Oceanview Ambulatory Surgery Center (OASC). OASC is a private, outpatient surgical facility located adjacent to Dr. Mills' office in Suite 403 in the Physician's Center West building on the campus of Mission Hospital Laguna Beach in picturesque Laguna Beach, California.
As a private facility, OASC offers the highest level of confidentiality to patients. Only Dr. Mills' and OASC staff is privy to patient identity and what procedures are scheduled. All staff members are committed to maintaining the highest levels of patient privacy.
OASC is now AAAA/Medicare-certified, which means that this facility has met very strict requirements for providing quality, cost-effective surgical care to all patients. In addition, OASC has emergency back-up and transfer agreements with Mission Hospital Laguna Beach which is on the same campus and adjacent to the surgical facility and Dr. Mills' office. Additionally, Dr. Mills has staff privileges at Mission Hospital Laguna Beach.
In addition to employing medical staff with current Advanced Cardiac Life Support, OASC is equipped with the necessary devices to monitor your vital signs in both the operating and recovery rooms.
Equipment Includes:
EKG Monitor
Blood pressure Monitor
Pulse Oximetry
Defibrillator
CO2 Monitor
Oxygen Gas
OASC also maintains a "crash cart" with the medications and equipment to handle any type of life-threatening emergency.
Dr. Mills invites you to schedule an appointment to tour the facility at OASC.
Facility Certification
Until recently, any physician could perform any procedure in an office as long as basic fire and safety codes were met. There was no level of sanitation, patient care monitoring or peer review required. Unfortunately, tragic consequences have occurred because of faulty equipment, lack of trained personnel and physicians and inadequate emergency equipment.
As of July 1996, the State of California enacted SB595. This law prohibits anyone from operating in a non-accredited surgical facility when mind-altering medications, such as anesthesia are administered. This accreditation requires that high standards are met and maintained, including the necessary equipment and supplies (i.e. blood pressure, oxygen saturation, cardiac monitoring equipment, etc.), regular inspection and servicing of medical equipment, continuing training and education of the surgeon and staff, stringent supply storage requirements, facility sanitation and emergency preparations and equipment.
Accreditation can be given by various agencies, including:
Accreditation Association for Ambulatory Health Care (AAAHC).  An alternative national accrediting body that most insurance companies recognize. This accreditation should be the minimum that you seek when choosing a surgical facility
American Association for the Accreditation of Ambulatory Surgery Facilities (AAAASF)
Joint Commission on Accreditation of Healthcare Organizations (JCAHO)
State Certification
Medicare Certification – An agency of the federal government that sets the strictest requirements over personnel, procedure and equipment compliance.
Anesthesia Service
Whenever you are heavily sedated or have general anesthesia, you put your life in someone else's hands. Much of that responsibility falls to the individual administering your medications and monitoring your vital signs. You need to know the qualifications of the person. Their training can range from specialization after earning a medical degree (anesthesiologist) to specialization after nursing training (nurse anesthetist) to nursing training only.
Dr. Mills uses both Anesthesiologists and Certified Registered Nurse Anesthetists for administering general anesthesia and monitored anesthesia care. In contrast to a RN, a CRNA is qualified, licensed and trained to administer general anesthesia. The educational requirements to become a CRNA are extensive. Prior to applying for admission to a graduate program in nurse anesthesia, a candidate must have a four-year bachelor's of science degree, a current license as a registered nurse, and a minimum of one year's acute care nursing experience. The master's degree nurse anesthesia program itself is 24-36 months, depending on university requirements. CRNAs are board certified and mandatory continuing education is required for recertification every two years.
As anesthesia specialists, CRNAs administer more than half of the 26 million anesthetics given to patients in the United States each year.
Dr. Mills has been working with a select group of CRNAs since the beginning of his practice. Every member of this team has 15 – 25 years of anesthesia experience, and some members have specialized in "Outpatient Anesthesia" for a minimum of 20 years plus. Together, Dr. Mills and the CRNAs have maintained a superior safety and patient care record. Dr. Mills has found that the nursing background of CRNAs has added a higher quality of personal attention to surgery and recovery, while maintaining the highest medical safety and care.  Dr. Mills also works with board certified anesthesiologists that are on staff at OASC.  This allows the patients the choice of either professional based upon their individual medical history and Dr. Mills' recommendation.
Another reason that Dr. Mills prefers CRNAs over anesthesiologists is that they stay with the patient throughout the surgery and until the patient is discharged home from the recovery room. Anesthesiologists, on the other hand, are traditionally dismissed from the surgical center once the patient has started to wake. Dr. Mills feels that it is important that the patient is monitored closely during the period in the recovery room.
In some facilities, a surgeon may actually be the person administering the anesthesia medication. Dr. Mills never administers general anesthesia or heavy sedation on his cases, since he feels that it is not safe for him to try to monitor vital signs and perform surgery at the same time.
Nurse anesthetists provide high quality anesthesia services combined with personal concern for the health and welfare of patients. If you have any additional questions about CRNAs and anesthesia services, we would be happy to provide you with additional information.
Choosing A Surgical Facility
Dr. Mills recommends that you take note of the complete medical team and facility when choosing your surgeon. In the event of an emergency, you will want to know with assurance that the medical team has the skills and equipment to handle the situation. The importance of highly-qualified medical team and certified facility should not be overlooked.
Here are some questions that Dr. Mills suggests you ask when researching and interviewing potential plastic surgeons:
Who administers the anesthesia?
What group has accredited the facility?
What monitoring devices are in the operating room?
What monitoring devices are in the recovery room?
Who will be present in the recovery room?
Does the nurse or the surgeon have current Advanced Cardiac Life Support?
How far is the surgical facility from a hospital or emergency care?
Does the surgeon have transfer privileges at a nearby hospital?
Does the facility have a "crash cart" to handle a life-threatening emergency?
Schedule Your Consultation
Please contact the Aesthetic Plastic Surgical Institute today if you are interested in scheduling a consultation with Dr. Mills.