Rhinoplasty
Many men and women desire a greater aesthetic balance between their facial features. This often involves a focus on the slight imperfections of their nose, as this is the central feature of the face. Regardless of the reasons for desiring a rhinoplasty (nose surgery), plastic surgeon Daniel C. Mills, MD possesses an artistic eye and years of expertise in performing this procedure, which allow him to help his patients achieve the cosmetic balance they desire and the increased self-confidence they deserve.
What Is Rhinoplasty?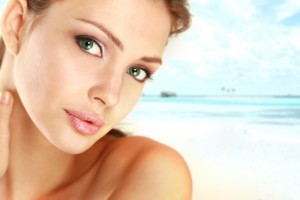 Rhinoplasty is the medical term for a surgical procedure designed to modify cosmetic or functional aspects of the nose. This treatment has remained one of the most commonly performed plastic surgery procedures for many years, and is a popular treatment for both women and men. Rhinoplasty, also known as nose surgery or nose resculpting, can help individuals address what may have been lifelong aesthetic concerns they may have had with their nose, as well as resolve problems with breathing caused by structural nasal irregularities.
What Can Be Accomplished with Rhinoplasty?
Rhinoplasty can adjust the nasal shape by increasing or decreasing nose size, reducing the bridge or tip of the nose, and even altering and reshaping the nostrils. This procedure can help Dr. Mills' patients address a variety of nasal issues, including concerns such as:
The feeling that the nose is too large or too small for the face
The feeling that the nose is off-center or crooked
Nasal asymmetry due to previous injury
Undesirable bumps, dips, depressions, or thickness
Excessively flared nostrils
Breathing problems, including those caused by a deviated septum
Dr. Mills relies on special facial plastic surgery training when helping his patients achieve their goals of a balanced facial aesthetic through rhinoplasty by focusing on the individual expectations and striving for natural-looking results.
View rhinoplasty before-and-after photos featuring some of our very own patients to see the outcomes. If you would like more information about the facial enhancement procedures we offer, please contact Aesthetic Plastic Surgical Institute today.
What Does the Rhinoplasty Procedure Involve?
During the consultation process, Dr. Mills will listen to every patient's goals and expectations, and review all possible options when developing a rhinoplasty treatment plan. With nose surgery, Dr. Mills may employ a number of different techniques to reach the desired result. However, traditional rhinoplasty involves incisions made along the outside and/or inside of the nostrils to limit visible scarring. During the procedure, the nasal bone and cartilage are separated and reshaped according to the treatment plan, then replaced and supported by a splint to help the nose retain its new shape. In some cases, gauze may be used within the nostrils to hold the septum in place and control bleeding.
Before Surgery
Several weeks before the date of surgery, patients will meet with our pre-operative patient coordinator. She will review all of the pre-operative instructions and ensure that each patient has completed all the necessary lab tests and health screenings based on their medical history and surgical plan. To facilitate the effectiveness of the rhinoplasty procedure, patients will be asked to stop taking certain medications and supplements from two weeks prior to surgery until two weeks after the procedure. To close the appointment, the patient and patient coordinator will address any final questions and concerns to be certain everyone is prepared for surgery and ensure an optimal recovery period.
Dr. Mills' team consists of a nurse anesthetist, a registered nurse, and a surgical technician; all will be fully dedicated to each patient's care throughout their nose surgery. On the day of surgery, patients will be admitted to the aesthetic plastic surgery facilities and spend about an hour with our registered nurse in preparation for the procedure. As Dr. Mills has been working with most of his dedicated and highly skilled team since he started his practice, the entire staff is committed to and experienced at providing all patients with superior care on a successful path to the eventual surgical goals.
Surgery
The typical rhinoplasty procedure takes about two hours to complete under general anesthesia, which allows the procedure to be performed as an outpatient surgery. Nose surgery can often be combined with other cosmetic facial surgeries, such as facial implants, brow lifts, or chin augmentation, as well as non-invasive techniques like injectable dermal fillers, to further improve the overall facial aesthetic in pursuit of the patient's ultimate plastic surgery goals.
What Can I Expect During Recovery from Rhinoplasty?
Recovery from nose surgery requires elevation of the head for at least a day following the procedure, and avoiding any heavy lifting or strenuous activity for at least three weeks. Patients should avoid blowing their nose for at least a week following nose surgery to allow the area to heal correctly. Within a few days, nasal packing will be removed, and normal activities can typically be resumed after about a week. Dr. Mills' patients can expect some swelling and bruising for several days following the cosmetic surgery. However, most patients can expect at least 75% of the swelling to dissipate within about a month of the procedure. Pain during the recovery process from rhinoplasty can be managed with medication.
What Are Some of the Risks of Rhinoplasty?
Dr. Mills will provide each patient with instructions specific to their situation and procedure to ensure the ultimate success and effectiveness of their rhinoplasty and to avoid any complications or infections. While extremely rare, typical risks associated with nose surgery include the development of blood clots, infection, or an adverse reaction to the anesthesia. Blood clots will usually dissolve on their own; however, if they do not, they can often be drawn out with a needle. If an infection occurs, it is typically treated with antibiotics.
Are the Scars from Rhinoplasty Noticeable?
One of the major benefits associated with rhinoplasty is that it typically results in scars that are barely noticeable, if detectable at all. If the procedure is performed utilizing incisions exclusively inside the nose (closed rhinoplasty), there should be no visible scarring whatsoever. For individuals who have the incisions placed on the outside of the nose (open rhinoplasty), these incisions are typically placed along natural creases where the nose meets the face; therefore, any residual scarring often blends in and becomes virtually unnoticeable.
How Much Does Rhinoplasty Cost?
Rhinoplasty surgery with Dr. Mills typically costs around $10,000-$12,000. This includes fees for the surgeon, operating facility, and anesthesia. The total cost of rhinoplasty surgery can vary based on the surgeon's technique, the complexity of the surgery, and other factors. 
Once your treatment program is developed, a member of our team will come up with a cost estimate that includes all aspects of your rhinoplasty procedure and go over it with you in detail. In cases where rhinoplasty is being performed to correct a functional nasal issue, such as a deviated septum, some insurance policies may provide at least partial coverage for treatment; however, rhinoplasty procedures performed for cosmetic reasons are typically not covered. With that in mind, our practice will be happy to talk with you about the vast selection of payment methods we accept, and answer any questions you may have about the possibility of financing your rhinoplasty procedure. We work with a reputable plastic surgery financing company that offers convenient monthly payment plans for qualified applicants.
Is Non-Surgical Rhinoplasty Possible?
For patients who would like to enhance the appearance of their nose to a milder degree and with less permanent results, there is a non-surgical alternative to rhinoplasty that may be an ideal option. Known as a "liquid rhinoplasty," the procedure involves the use of cosmetic injectable fillers to alter nasal shape and contour. Liquid rhinoplasty can serve as an option for patients who wish to avoid major surgery at the present time; however, this treatment is not effective for all concerns related to nasal appearance, and will likely not achieve outcomes that are as significant as those associated with rhinoplasty surgery. It's also important to remember that, while the effects of many injectable fillers can be long-lasting, liquid rhinoplasty results are ultimately temporary and will need occasional follow-up treatment to maintain the outcome.
Dr. Mills will go over your options with you during the initial consultation and help you determine whether surgical rhinoplasty or non-surgical liquid rhinoplasty is more ideal for your needs and goals.
Additional Frequently Asked Questions About Rhinoplasty
How can I reduce swelling after rhinoplasty?
Swelling will be present after rhinoplasty surgery, and will likely be at its most noticeable degree between approximately four to six weeks after the procedure. By that time the swelling should have significantly dissipated. With that in mind, there are a few steps that can be taken to control swelling following rhinoplasty. It is primarily important to use crushed ice on and off each day for two weeks to decrease pain and swelling. Additionally, it is important to keep the head in an elevated position as much as possible. Patients typically see 70% of results at one month after surgery, 85% of results at three months, and 95% of results at one year.
Avoiding foods that have a high salt content, which can exacerbate swelling, can also be helpful. Foods that are high in antioxidants and proteins—such as eggs, fruits & vegetables, healthy fats, and leafy greens—can often be good additions to one's diet during this time since these ingredients can help reduce the risk of fluid retention and inflammation. Dr. Mills will provide you with post-operative instructions that offer guidance on how you can attain the most comfortable and effective recovery possible.
When can I blow my nose after rhinoplasty?
For a few days following rhinoplasty, your nose will probably feel congested and stuffy. Inhaling through the nose is positive pressure so it is typically okay to sniff; however, it is extremely important that you resist the urge to blow your nose for at least four weeks after the procedure. The pressure involved in that action can ultimately cause damage to the soft tissue, bones, and cartilage during this delicate period of healing, and may even compromise the aesthetic results. Dr. Mills will provide recommendations on how you can safely relieve the feeling of nasal congestion while you recover from rhinoplasty surgery.
How long after rhinoplasty can I wear glasses?
It's often best to wait a minimum of four to six weeks before placing eyeglasses on the bridge of the nose after a rhinoplasty procedure. While eyeglasses do not typically weigh very much, even the slightest pressure on the area may be dangerous, ultimately increasing the risk of compromising the healing process. Dr. Mills can make a personalized recommendation as to how long you may need to avoid wearing eyeglasses once your treatment plan has been developed.
How do I clean my nose after rhinoplasty?
Dr. Mills will advise you on the best ways to clean your nose after nose surgery. In most cases, an H2O nasal spray is typically all that's required to reduce dryness; in others, Dr. Mills may recommend that a cotton swab be used to carefully address any blockages in the nasal cavity. That said, it is very important to follow any guidelines or instructions provided by our team to ensure you are able to adequately clean your nose after surgery without negatively affecting the nasal tissue as it heals.
To schedule a consultation for rhinoplasty, or to receive more details about the procedure, please contact Dr. Mills today.