Laser Hair Removal
Laser hair removal is a great option for women and men who are tired of relying on shaving, waxing, plucking, electrolysis, and other options to reduce unwanted hair. Our plastic surgeon at the Aesthetic Plastic Surgical Institute offers this advanced treatment that can help individuals remove undesired hair in small or large areas with little possibility that it will ever grow back. Dr. Daniel C. Mills and our experienced aesthetic professionals utilize state-of-the-art laser systems that can help you attain your goals with exceptional results.  
Am I a Candidate for Laser Hair Removal?
With the many advances made in laser hair removal technology over the years, this treatment can be effective for patients of virtually any skin type and tone. A member of our team will meet with you for a consultation to evaluate your skin, talk with you about your goals, and determine your candidacy for laser hair removal. This procedure can be performed on practically any region of the body affected by undesired hair, including the legs, arms, underarms, face, neck, back, chest, and bikini areas
How Does Laser Hair Removal Work?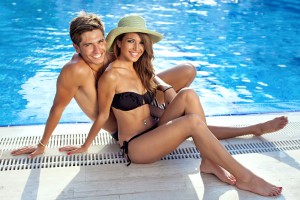 Our state-of-the-art laser hair removal treatment is designed to deliver targeted laser energy directly to the hair follicles. The melanin pigment inside the follicle absorbs this energy and converts it to heat, which destroys the hair at its root and allows it to fall out. Once the hair is gone, it should not return. While we can't guarantee that the hair reduction will be permanent for every patient, it is important to note that, on average, most individuals can attain a 50-90% permanent reduction in the total amount of hairs after a series of treatment sessions.
What Does the Laser Hair Removal Procedure Involve?
Our office uses the LightSheer™ Diode Laser System, which offers a unique combination of laser parameters and patented ChillTip™ protection. The LightSheer™ technique can often provide treatment for larger areas in less time when compared to other hair removal treatments. Plus, the technique's ChillTip™ component, along with the application of a topical anesthetic, can help minimize discomfort during treatment. The laser will be delicately guided along the areas targeted for hair removal in a procedure that can last as little as a few minutes or as much as an hour or more, depending on the size and number of areas being treated.
Laser hair removal is an outpatient procedure that can be performed right here at our practice. Multiple laser hair removal treatment sessions, spaced out over a series of appointments, are often necessary for the most optimal results. Patients who have lighter skin tones typically require about three to six treatments, and those with darker skin tones may need four to eight.
Does Laser Hair Removal Hurt?
With a topical numbing agent applied to the skin and the technology's ChillTip™ component, laser hair removal is typically not a painful procedure for most patients. The treatment is often said to feel a bit like a rubber band being snapped against the skin. Our team will take every precaution to ensure that the treatment is as comfortable as possible. 
Pre-Treatment Instructions:
Refrain from using Accutane for six months before treatment
No Retin-A or Glycolic products to the targeted area for two weeks before treatment
No aspirin, ibuprofen, or aspirin-containing medication for three days prior to treatment
No tanning of treatment area (including self-tanners) for at least two weeks before treatment
Apply topical anesthetic prior to treatment
No waxing or tweezing the area for at least four weeks prior to treatment
Shave area the day of treatment
No deodorant, creams, oils, perfumes, etc. on area prior to treatment
Wear loose, comfortable clothing on the day of treatment so as not to irritate the treated area
Mild redness with swelling is normal and may persist for two to three days after treatment
Ice immediately, if necessary
Apply 1% hydrocortisone or aloe vera to treated area as redness occurs
No picking or scratching the treated areas
No deodorant to treated area for 48 hours
On the third day post-treatment, you may shave or gently loofah the area to help loosen hair that is still embedded in the follicles.
A stubble of hair may be apparent for one to two weeks and should eventually fall out
No direct sun exposure for at least two weeks
Use sunscreen of SPF 30 or greater and with zinc oxide or titanium dioxide to protect the treated area
No exercise until perifollicular edema (red bumps) resolves
No jacuzzi, sauna, or steam baths until the skin is back to normal
Mild redness with swelling is normal and may persist 
Are There Side Effects from Laser Hair Removal?
Possible side effects of treatment include mild redness, local swelling, dry skin, mild tenderness, blistering, whitehead-like bumps, and lightening or darkening of the skin. Symptoms may be present for a couple of hours to days after treatment. Avoid any sun exposure to treatment areas before and after laser hair removal treatment. 
What Can I Expect During Recovery from Laser Hair Removal?
Most patients are able to resume work and other daily activities right after the laser hair removal procedure. You may feel a sensation akin to a mild sunburn for the first day; however, the side effects should diminish as time passes.
Laser hair removal has helped so many individuals eliminate the hassles associated with traditional hair removal routines and successfully achieve their goals. To learn more about laser hair removal, or to schedule a consultation here at our practice, please contact us today.