Mommy Makeover
Of the many sacrifices women make in order to provide the best life possible for their children, your appearance does not have to be one of them. The physical changes that occur as the result of pregnancy and child-rearing can often be difficult to reverse. Even the most rigorous diet and exercise programs sometimes cannot get rid of excess fat pockets and skin folds that appear on the body, and signs of fatigue and stress can manifest along the face that may be causing you to look older than you really are. Dr. Daniel C. Mills offers an innovative procedure that can address these issues. A Mommy Makeover is a combination of aesthetic enhancement treatments that is customized to your unique needs. Mommy Makeovers are designed specifically for mothers who want to revitalize their appearance and restore their pre-pregnancy figures. With comprehensive treatment from Dr. Mills, you can achieve your goals and renew your body, as well as your self-esteem.
What a Mommy Makeover Can do for You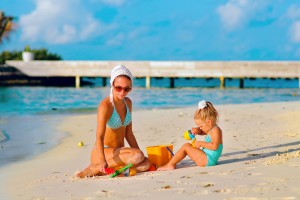 Pregnancy and child-rearing can cause the body to undergo numerous changes that make it difficult for diet, exercise, and skin care regimens to have much effect in correcting. A Mommy Makeover can help by offering surgical and non-surgical aesthetic enhancement treatments designed to provide you with successful results.
A Mommy Makeover can address a number of body areas with significant benefits, including:
Breasts
Reduction of excess skin and fat that may be causing a sagging appearance; add fullness to breasts that may have lost volume
Body
Reduction of excess fat and skin in the midsection, thighs, arms, back, neck, or other areas; tightening of abdominal muscles and skin for a flatter-looking abdomen
Face
Reduction in the appearance of fine lines and wrinkles along the face; add volume to facial features for a more youthful, contoured appearance
Dr. Mills will meet with you for a one-on-one consultation to discuss your goals and help you decide which procedures may be the best options to include in your customized Mommy Makeover treatment plan.
Please contact our practice for more information on the Mommy Makeover, or to schedule a consultation with our board-certified plastic surgeon.
Mommy Makeover Procedures
A Mommy Makeover is typically made up of a combination of procedures that can be addressed at one time, or over a series of appointments. Options for a Mommy Makeover include:
Breast Lift
Breast lift surgery, medically referred to as Mastopexy, can effectively reverse a very common condition that affects women who have recently been pregnant and those who breastfeed their children: a buildup of excess skin in the breasts. A breast lift eliminates excess skin that may be causing a sagging appearance and tightens the remainder, lifting the breasts to a higher position and helping them look more youthful and "perky."
Learn more about breast lift.
Breast Lift with Implants
Women who are experiencing a sagging appearance in the breasts may also notice that their breasts have lost volume after pregnancy. These issues can both be addressed by a breast lift with implants procedure, which can add fullness and contour to the breasts while reducing extra skin that may be causing them to droop.
Learn more about breast lift with implants.
Breast Augmentation
A breast augmentation with saline or silicone implants can restore breast volume that may have been lost after pregnancy or breastfeeding. Breast implants come in a variety of sizes, shapes, and types, and help you attain a larger, more sensual bustline.
Learn more about breast augmentation.
Liposuction
Liposuction can be an effective way to reduce excess pockets of fat that can accumulate virtually anywhere on the body. Areas such as the arms, thighs, neck, back, love handles, abdomen, and buttocks can be recontoured and renewed with this popular aesthetic enhancement procedure.
Learn more about liposuction.
Tummy Tuck Surgery
Tummy tuck surgery (abdominoplasty) focuses on the area of the most obvious physical change after pregnancy: the abdomen. During pregnancy, the abdominal muscles are stretched, and sometimes pulled apart. A tummy tuck is designed to tighten the abdominal muscles, remove excess skin that may have proven resistant to diet and exercise, and smooth out the remaining skin for a more toned, taut, and flat appearance in the stomach region.
Learn more about tummy tuck surgery.
Cosmetic Injectable Facial Rejuvenation
The exhaustion, lack of sleep, and stress that often come with motherhood can cause premature wrinkles and fine lines to appear on the face. Cosmetic injectable facial rejuvenation can reduce signs of aging and fatigue, as well as add volume to facial features for a more youthful and refreshed appearance.
Learn more about cosmetic injectable facial rejuvenation.
"I just want to take this opportunity to thank you and your staff for all of your generous encouragement and support. My story is much like many other women's stories. I had given birth to two wonderful children and my body was suffering from the effects imposed on it as a result of child rearing. My self-confidence and self-esteem were at an all time low and for the first time in my life I was seriously considering having breast augmentation surgery. After my initial consultation and first meeting with you and your staff, I knew that this is what I wanted to do.

I cannot thank you enough for all of the words of encouragement and the patience exhibited by you and your staff as you answered all of my silly questions. Today, I could not be happier with the results of the procedure. Dr. Mills, you are a gifted physician and a wonderful person. My self-confidence as well as my self-esteem is now at an all time high and I truly feel good about myself. My sincerest thank you!"
– A.T.*
Mommy Makeover Recovery
Specific recovery information for Mommy Makeover procedures depend on which options are ultimately part of your treatment plan. Non-surgical treatments such as cosmetic injectable facial rejuvenation typically do not require any downtime, and most patients can resume normal daily activities immediately. Surgical procedures such as tummy tuck or breast lift surgery will require a period of rest and recovery at home for at least one week, and the avoidance of strenuous activities for several weeks after the procedure. You can learn more about recovery information for each procedure by visiting its respective page on our website, or you can contact Dr. Mills with any questions you may have.
Schedule a Consultation
A Mommy Makeover can be a great way of correcting aesthetic issues you may be experiencing after pregnancy and during the time you are raising your children. If you are having trouble getting back into your pre-pregnancy shape, please contact our practice and we can meet with you to discuss your goals.