Mommy Makeover
Of the many sacrifices women make in order to provide the best life possible for their children, their appearance does not have to be one of them. The physical changes that occur as the result of pregnancy and child-raising can often be difficult to reverse. Even the most rigorous diet and exercise programs sometimes cannot get rid of excess fat pockets and skin folds that appear on the body, and signs of fatigue and stress can manifest along the face that may be causing you to look older than you really are. Our board-certified plastic surgeon, Daniel C. Mills, MD, offers an innovative procedure that can address these issues. A Mommy Makeover is a combination of aesthetic enhancement treatments that is customized to your unique needs. Mommy Makeovers are designed specifically for mothers who want to revitalize their appearance and restore their pre-pregnancy figures. With comprehensive treatment from Dr. Mills, you can achieve your goals and renew your body, as well as your self-esteem.
What Can a Mommy Makeover Do for Me?
Pregnancy and raising children can cause the body to undergo numerous changes that make it difficult for diet, exercise, and skin care regimens to have much of an effect in correcting. A Mommy Makeover can help by offering surgical and non-surgical aesthetic enhancement treatments designed to provide you with successful results.
A Mommy Makeover can address a number of body areas with significant benefits, including: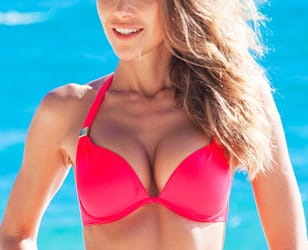 Breasts
Reduction of excess skin and fat that may be causing a sagging appearance; enhanced fullness to breasts that may have lost volume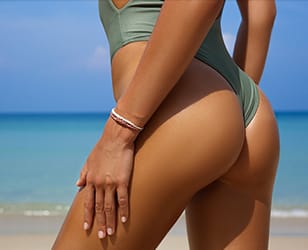 Body
Reduction of excess fat and skin in the midsection, thighs, arms, back, neck, or other areas; tightening of abdominal muscles and skin for a flatter-looking abdomen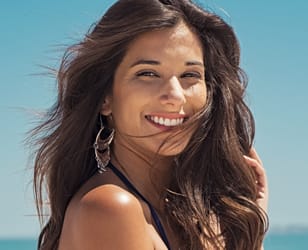 Face
Reduction in the appearance of fine lines and wrinkles along the face; additional volume to facial features for a more youthful, contoured appearance
Dr. Mills will meet with you for a one-on-one consultation to discuss your goals and help you decide which procedures may be the best options to include in your customized Mommy Makeover treatment plan.
Please contact our practice for more information on the Mommy Makeover, or to schedule a consultation with Dr. Mills.
Am I a Candidate for a Mommy Makeover?
Generally, ideal candidates for Mommy Makeover procedures will be in good overall health, maintain a weight that is at or relatively close to the ideal weight for their bodies, and have realistic expectations for results. Candidates for a Mommy Makeover are typically individuals who would like to reverse the lingering physical effects of pregnancy, breastfeeding, and raising children. These effects can include: stretching or tearing of the abdominal muscles; excess skin and fat in the abdomen; isolated pockets of excess fat in a variety of body areas; loss of volume and/or skin elasticity in the breasts; more prominent signs of aging; or other concerns. Because a Mommy Makeover can be customized for each individual and can involve various procedures, Dr. Mills will talk with you about the areas you would like to address and help you determine the ideal treatments to include in a Mommy Makeover. Once you have been evaluated in the initial consultation and you are found to be a good candidate for this procedure, our plastic surgeon can develop your personalized treatment plan and discuss the next steps.
"I just want to take this opportunity to thank you and your staff for all of your generous encouragement and support. My story is much like many other women's stories. I had given birth to two wonderful children and my body was suffering from the effects imposed on it as a result of child rearing. My self-confidence and self-esteem were at an all time low and for the first time in my life I was seriously considering having breast augmentation surgery. After my initial consultation and first meeting with you and your staff, I knew that this is what I wanted to do.

I cannot thank you enough for all of the words of encouragement and the patience exhibited by you and your staff as you answered all of my silly questions. Today, I could not be happier with the results of the procedure. Dr. Mills, you are a gifted physician and a wonderful person. My self-confidence as well as my self-esteem is now at an all time high and I truly feel good about myself. My sincerest thank you!"
– A.T.*

"I had a Mommy Makeover with Dr. Mills and I could not be happier with my results. Dr Mills is meticulous, professional, amazing and detailed. I feel I feel like a new woman…"
How to Prepare for a Mommy Makeover
One of the most important things to understand about a Mommy Makeover is that, since the procedure will involve multiple surgical areas in different regions of the body, you will need to make plans to rest and recover at home for a minimum of two weeks, depending on the particular treatments performed. Dr. Mills and our plastic surgery team will give you specific guidelines for the pre-operative and post-operative stages; however, there are some additional actions you can take in preparation for your Mommy Makeover that can help make the recovery process as restful and anxiety-free as possible:
Ask for Help from a Friend or Family Member
During recovery, your full focus will need to be on resting and healing; therefore, it is best to plan for some assistance with certain aspects of daily life during this period of downtime. Having a loved one take care of any necessary errands, look after pets, and complete chores around the house can go a long way toward allowing you to focus on achieving a smooth and safe recovery. A shoulder to lean on can also be very good in terms of emotional support while you heal.
Arrange for Childcare
If you have small children, keep in mind that you will likely not be able to pick them up or look after them in the way you are accustomed during the recovery period. Arranging for childcare assistance while you are healing can be a very helpful step to take.
Fill All Prescriptions
Any medication that will be prescribed by Dr. Mills to control discomfort following your Mommy Makeover procedure can be filled before the surgery is performed. By completing this prior to the procedure, you can be sure of having medications ready right when you need them.
Prepare Your Home
Before your surgery, it's a good idea to take care of all errands that will be necessary for an extended stay at home. Stock up on groceries and personal care items, arrange your bedroom, and generally prepare your home with necessities for what could be a few weeks of downtime. This includes items that can simply help you pass the time, like DVDs, magazines, journals, and books. Having these things at the ready and in the location you'll be spending most of your recovery time can be very convenient and helpful.
Follow All Post-Operative Instructions
During the recovery period, it is critical to strictly follow the post-operative guidelines that Dr. Mills provides. Wearing surgical garments as directed, drinking plenty of water and getting proper nutrition, resting, and taking short walks as recommended are all necessary aspects of the recovery process to ensure you are healing safely and your body is as healthy as possible.
How Long is Mommy Makeover Surgery?
The projected length of Mommy Makeover surgery is dependent upon a number of factors. These include the particular treatments involved in the overall procedure and whether the Mommy Makeover is being performed all at once or in a series of staged appointments. Once you have chosen the specific treatments that will be part of your Mommy Makeover and Dr. Mills has discussed the best surgical approach, he will be able to provide details on the expected length of the procedure. In many cases, Mommy Makeovers can be performed on an outpatient basis.
What Can I Expect During Recovery from Mommy Makeover Surgery?
Specific recovery information for Mommy Makeover procedures depends on which options are ultimately part of your treatment plan. Non-surgical treatments such as cosmetic injectable facial rejuvenation typically do not require any downtime, and most patients can resume normal daily activities immediately. Surgical procedures such as tummy tuck or breast lift surgery will require a period of rest and recovery at home for at least one week, and the avoidance of strenuous activities for several weeks after the procedure. You can learn more about recovery information for each procedure by visiting its respective page on our website, or you can contact Dr. Mills with any questions you may have.
How Noticeable Are Mommy Makeover Scars?
The exact nature of residual scarring from a Mommy Makeover will depend on the treatments that were included in the procedure. Liposuction typically results in very minimal scarring since the required incisions are so small. The specific techniques utilized in breast lift surgery, breast lift with implants, or breast augmentation will dictate the location and size of scarring from those treatments; however, Dr. Mills works diligently to create incisions that yield scars that are as inconspicuous as possible. A full tummy tuck surgery will produce a noticeable scar from one hip to the other, which can often be easily hidden under clothing and swimwear, as well as a scar in the navel region. Since cosmetic injectables require no incisions, no scarring will be present after those kinds of treatments. It is also important to note that, for many patients, scarring often fades to some degree over time. During your initial consultation, Dr. Mills will talk more with you about what you can expect in terms of the noticeability of residual scarring.
When Is the Best Time for a Mommy Makeover?
Some individuals would like to renew their figures as soon as possible after giving birth, while others begin considering the procedure long after they have completed their families. For women who have just recently given birth, it is recommended to wait a minimum of six months to a year. The reason it's good to wait before having this procedure is because the body is already undergoing a healing process following the rigors that have been placed on it from the pregnancy, and this process will need to be generally completed to maximize safety and health prior to surgery. Additionally, there will need to be adequate time given for areas of the body such as the abdomen and breasts to "settle" after childbirth. Last but certainly not least, many women find that waiting awhile before undergoing a Mommy Makeover can help build up the energy necessary for major surgery—energy which will be greatly expended on caring for a newborn in the first several months following childbirth.
Dr. Mills can talk with you about your needs and goals and help you determine when it's the most ideal time for your Mommy Makeover.
How Much Does a Mommy Makeover Cost?
The cost of a Mommy Makeover can vary widely among individual patients since the procedure is customized based on the treatments that have been selected. The total cost will be based on the number and type of treatments performed, fees for anesthesia and costs relating to the use of the surgical facility, and other factors. Once the Mommy Makeover treatment plan is developed during the initial consultation, a member of our staff will produce a cost estimate, including all associated expenses, and answer any questions you may have about payment options. In addition to accepting an array of convenient payment methods, the Aesthetic Plastic Surgical Institute works with PatientFi™. This lending agency offers qualified applicants plastic surgery financing plans that can be helpful for patients who would like to pay for their Mommy Makeover procedure over time. We look forward to answering any questions you may have.
A Mommy Makeover can be a great way of correcting aesthetic issues you may be experiencing after pregnancy and during the time you are raising your children. If you are having trouble getting back into your pre-pregnancy shape, please contact our practice and we can meet with you to discuss your goals.
Additional Mommy Makeover Frequently Asked Questions
Is a Mommy Makeover safe?
As with any major surgical procedure, there are risks that come along with a Mommy Makeover. However, those risks can be mitigated when the treatment is being performed by a board-certified plastic surgeon, such as Dr. Mills, who has years of experience with these procedures. Dr. Mills makes patient safety the highest priority and will not recommend certain treatments if they pose higher risks for certain patients. General risks for Mommy Makeover procedures, depending on the procedures chosen, can include infection, bleeding, prolonged healing of incisions, seroma, hematoma, nipple sensation loss, the rare failure to breastfeed in the future, implant rupture, and other possible—however rare—complications associated with specific treatments and the use of general anesthesia. Dr. Mills will go over all potential risks with you beforehand so you have a full understanding of the procedure and what it will entail. Again, our plastic surgeon has performed these treatments many times and will take maximum precautions to minimize risks and provide you with the safest procedure possible.
How can I "preview" my Mommy Makeover results?
Using innovative and revolutionary
VECTRA
® 3D-imaging technology, our practice is capable of showing patients the potential results of certain treatments before the procedure has even been performed. Using a computer simulation, this digital imaging system can provide a glimpse of the possible benefits for patients at their pre-operative consultation. Some patients may find difficulty in imagining the potential results in their mind because multiple treatments are involved in a Mommy Makeover. With VECTRA® imaging technology, patients are able to receive a preview of what they might look like after their Mommy Makeover procedure is completed.
Will my Mommy Makeover be performed in a single operation?
The scheduling of a Mommy Makeover and its total duration will depend heavily on the individual patient and their particular needs. After considering various treatments and the potential risks, it may be possible for a Mommy Makeover procedure to be completed all at once. However, for the very same reasons, the Mommy Makeover treatment process may be spread out over the course of multiple appointments. Our team can provide a more specific outlook once you have met with Dr. Mills at your initial consultation.
How long before you can exercise after a Mommy Makeover?
As with most surgeries, the recovery process for a Mommy Makeover will vary among patients, especially when it comes to contemplating the return to exercise. Generally, some patients who receive a Mommy Makeover may be able to return to certain light workout routines within a few weeks following the procedure. However, if significant work is done for abdominal muscles and/or other body areas during the Mommy Makeover procedure, a return to strenuous physical activity will likely have to wait until after the six-week point or longer. Mommy Makeovers are uniquely customized for each patient so the exact time you will be able to exercise after the treatment will depend on your individual needs and the procedures that have been performed. Our team can provide you with more detailed recommendations once you have been examined.
What is the difference between a Mommy Makeover and a body lift?
The primary difference between a Mommy Makeover and a body lift is that the former is a collection of treatments that may include breast augmentation, facial rejuvenation, and others while the latter is traditionally a singular procedure aimed at removing loose skin and lifting the remaining skin. A body lift procedure such as a full lower body lift usually focuses on addressing excess, inelastic skin and fat in the abdomen, buttocks, and thighs. That option is often more suitable for patients who have lost significant amounts of weight and are experiencing pronounced areas of loose skin and excess fat in those body regions.
Schedule Your Consultation
We look forward to meeting you in consultation to develop a surgical plan that best suits your needs. Please contact our patient coordinator to schedule your one-one-one consultation. Dr. Mills wants this to be a great experience for you, and his staff will do everything we can to serve you.