Ultherapy®

Are you looking for a way to turn back the clock on your face and neck but do not have time for surgery? Ultherapy® may be the skin rejuvenation treatment for you. As the only non-surgical procedure that can effectively treat the deeper foundational layers of your face, Ultherapy® has proven to be a less invasive alternative to the traditional facelift. Some distinguishing characteristics of this innovative treatment are listed below.
Ultherapy® is the only non-invasive procedure that is FDA-approved to lift skin on the neck, submental region, and brow.
Results can often be achieved in a single treatment.
There is generally minimal to no patient downtime associated with the procedure.
The ultrasound technology utilized can help stimulate collagen production to strengthen, lift, and tighten your face and neck from the inside out.
Advances in Ulthera Amplify technology have altered energy levels used during treatment, often affording patients the same positive results with a greater degree of comfort.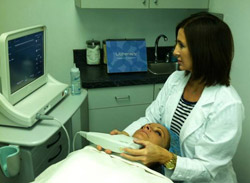 Dr. Daniel Mills was the first plastic surgeon to offer Ultherapy® in Orange County, and he has extended his knowledge and expertise to his experienced staff through advanced training. Since every patient has different skin qualities, goals, and requirements that must be addressed individually, a specialized treatment plan needs to be formulated and administered to achieve the most effective results possible. An Ultherapy® consultation with one of our experienced providers can help create this personalized treatment plan based on your unique needs.
How Ultherapy® Works
Patient Testimonial
Heather is a patient ambassador for Ultherapy® and is also a patient of Dr. Mills.

Before and After Photos
*Individual Results May Vary
Ultherapy in the Media
Ultherapy Featured on EXTRA:
---
Contact Our Office
To schedule your consultation for a free, customized Ultherapy® treatment plan, call (949) 499-2800 or contact our office via email today.