Ultherapy®

Are you looking for a way to turn back the clock on your face and neck but do not have time for surgery? Ultherapy® may be the skin rejuvenation treatment for you. As the only non-surgical procedure that can effectively treat the deeper foundational layers of your face, Ultherapy® has proven to be a less invasive alternative to the traditional facelift.
Dr. Daniel Mills was the first plastic surgeon to offer Ultherapy® in Orange County, and he has extended his knowledge and expertise to his experienced staff through advanced training. We can help you renew your appearance with beautiful results!
What Is Ultherapy®?
Ultherapy® is the only non-invasive procedure that is FDA-approved to lift skin on the face, neck, submental region, and brow. Also referred to as "Ulthera®," Ultherapy® utilizes ultrasound technology to penetrate into deep skin layers and essentially "lift" the skin without the need for surgical intervention. Fine lines, wrinkles, and other signs of age can be reduced via Ultherapy®'s collagen stimulation and skin tightening abilities, ultimately helping to provide a more refreshed and youthful appearance.
What Are the Benefits of Ultherapy®?
Ultherapy® offers a comprehensive array of benefits for both women and men who are looking to rejuvenate their appearance, including:
Results can often be achieved in a single treatment.
There is generally minimal to no patient downtime associated with the procedure.
Signs of age such as wrinkles, fine lines, jowls, inelastic skin, puffiness under the eyes, and others can be improved.
The ultrasound technology utilized can help stimulate collagen production to strengthen, lift, and tighten your face and neck from the inside out.
Advances in Ulthera® Amplify technology have altered energy levels used during treatment, often affording patients the same positive results with a greater degree of comfort.
No incisions or surgery is required.
Am I a Candidate for Ultherapy®?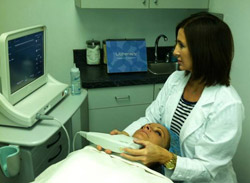 Since every patient has different skin qualities, goals, and requirements that must be addressed individually, a specialized treatment plan needs to be formulated and administered to achieve the most effective results possible. An Ultherapy® consultation with one of our experienced providers can help create this personalized treatment plan based on your unique needs. Ideal candidates for this procedure are typically those who have mild to moderate signs of aging and inelastic skin affecting the face, neck, chin, and/or décolletage area. This procedure is often a good option for individuals who may not require surgical procedures to achieve their goals, as well as for those who simply wish to avoid surgical intervention. During your initial consultation, we can evaluate your needs and determine whether Ultherapy® is the right option for your goals and expectations. In addition to Ultherapy®, our practice offers an extensive selection of other non-surgical medical spa treatments that can often serve as complements or alternatives to this procedure.
What Is the Ultherapy® Procedure Like?

Ultherapy® involves the careful and precise use of a special device guided across the areas targeted for treatment. The device delivers ultrasonic waves into the subcutaneous layer of skin, warming areas beneath superficial layers to the point where the growth of new collagen can be stimulated. This new collagen production can work to lift and tighten the skin, resulting in firmer, smoother, more youthful results.
Most Ultherapy® procedures take only about one hour to perform; however, this can vary depending on the number of areas being treated and the extent of treatment necessary for optimal results. The effects of the treatment should become more and more apparent as the new collagen progressively develops in the skin; the full outcome is often noticeable after about 60 to 90 days.
What Should I Expect During Recovery from Ultherapy®?
One of the benefits of Ultherapy® is that it typically does not require an extensive recovery process. Some swelling and redness can be expected after the procedure; however, these effects usually dissipate quickly, and makeup can often help conceal them. Most of our Ultherapy® patients are able to return to their normal daily routines right after the treatment.
How Long Do Ultherapy® Results Last?
The exact length of results from Ultherapy® varies from patient to patient; however, many individuals experience the skin renewal effects of this treatment for up to a year. This is due to the procedure's ability to produce the growth of collagen in the treatment areas, which can help keep the skin replenishing itself long after the initial Ultherapy® treatment session. For many patients, additional Ultherapy® procedures can be performed over the following years to help maintain the results for even longer periods. Those who have more severe skin laxity can often benefit from multiple Ultherapy® sessions, typically spaced apart between 6 to 12 months after the first treatment.

Ultherapy® Before-and-After Photos
Before and After Photos
How Much Does Ultherapy® Cost?
Ultherapy® is a customized procedure based on each patient's unique goals; therefore, the total price of Ultherapy® varies depending on the individual treatment plan. The size and number of treatment areas, the number of treatment sessions required for the best possible results, and other factors will be taken into account to arrive at the overall cost of Ultherapy®. Here at our practice, the price of the treatment itself often ranges between $450 for a peri-orbital "add-on" procedure to $4,500 for a full face to lower neck treatment. The full face to lower neck option is the most comprehensive, and therefore highest-priced, Ultherapy® treatment; other targeted areas fall below that figure in terms of cost. Our practice has a full price breakdown of the average cost of Ultherapy® for each area targeted for treatment. The estimate for your procedure will be calculated according to your customized treatment program. Once the treatment plan is developed during the initial consultation, we will produce a specific estimate for your procedure, including all associated expenses, so you will have the information you need prior to undergoing treatment. Our practice accepts an expansive range of payment methods, and we work with a plastic surgery financing company that offers payment plans for qualified applicants. We can answer your questions and help you find the most budget-friendly way to pay for this state-of-the-art procedure.
Ultherapy® In the Media
---
To schedule your consultation for a free, customized Ultherapy® treatment plan, call (949) 499-2800 or contact our office via email today.