Plastic Surgeon in Laguna Beach
Meet Dr. Daniel Mills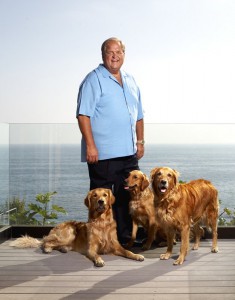 Thank you for taking the time to visit my practice website. I hope that after visiting my website, you have a better understanding of my approach to plastic surgery. My ultimate goal is to make you happy, giving you the beautiful results that you desire by using the latest in plastic surgery techniques and technology. I believe this goal fundamentally starts with a strong patient-doctor relationship. I aim to treat every person, whether patient or staff, like family, which impacts the effort and energy I invest into each surgery. I understand that each person who walks into my office has individual needs and expectations. My office staff and I strive to take the time to build trust and confidence by listening to each patient's needs and educating them on all available surgical and non-surgical alternatives.
Since trust has to be earned, I believe in spending a significant amount of time consulting with each patient. I feel that consultations are a forum for both the patient and surgeon to gather and communicate information to each other. My staff and I aim to spend the majority of each consultation listening and understanding your needs as a patient.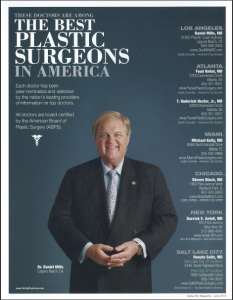 I want to ensure that you have all available information at your disposal to make a well-informed decision that is in your best interest. In addition to patient pictures, educational videos, and materials, we would be happy to connect you with prior patients who have been through the surgical process. The bottom line is that I want each patient that enters my office to feel more comfortable and well-informed when they leave than when they walked in.
I feel that my office staff and facility reflect my own values and standards for patient care. We understand that you, the patient, are making a significant decision in your life and we want to provide you the highest level of support and care possible. My staff is committed to serving your needs as a patient and supporting you through your decisions. We want to ensure optimal results so we encourage routine follow-up care. Additionally, most of our surgical procedures are performed on an outpatient basis at the private and discreet, state-of-the-art ambulatory surgical facility adjacent to our office suite, Oceanview Ambulatory Surgery Center, Inc. This facility is certified by Medicare, which means it meets the strictest of compliance standards.
I know that any decision you are considering will not be made lightly and I look forward to any opportunity to serve your needs relating to aesthetic plastic surgery.
Thanks again for visiting my site. Please do not hesitate to email or call my staff to ask any further questions. I hope to see you soon for your own consultation.
Very Truly Yours,
Daniel C. Mills, M.D., F.A.C.S.
"It was a pleasure meeting Dr. Mills. I've had a few major surgeries and never has a surgeon spend the time that Dr. Mills spent with Jen and I, he's awesome."
Education & Professional Background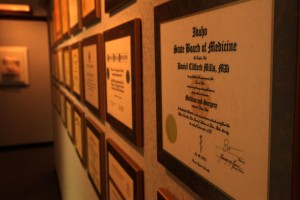 Dr. Mills continues a family legacy in the medical profession; he was born into a family that has grown to have nineteen medical doctors. He completed his medical education at Loma Linda University School of Medicine and the general surgery requirements for his plastic surgery residency at Wright State University. Following his general surgery training, he finished his plastic surgery residency at the Medical College of Ohio and elected for an additional fellowship year of specialty training in aesthetic surgery in Phoenix, Arizona.
Dr. Mills served as the President of the California Society of Plastic Surgeons from June 2007 until June 2008 and is an active member in good standing with the:
American Society for Aesthetic Plastic Surgery
California Society of Plastic Surgeons
American College of Surgeons
In addition to 15 years of experience in private practice and 10 years of plastic surgery residency teaching at Loma Linda University, Dr. Mills has been recognized for his innovations and contributions to plastic surgery. Dr. Mills has published numerous books and papers and has presented in front of national and international audiences at plastic surgery meetings. (For a complete listing of training, affiliations, publications and presentations, see Dr. Mills' curriculum vitae listed below.)
Beyond his practice, staff positions and society affiliations, Dr. Mills believes wholeheartedly in using his plastic surgery skills to benefit the lives of others. He partners with a charity in Baja, Mexico called "Amigos de los Niños" and Operation Good Samaritan to provide plastic and reconstructive surgery for impoverished children with congenital and acquired deformities, such as cleft lip/palate and burns. In addition to these missionary trips, Dr. Mills works hand-in-hand with Community Services Project. Specifically, Dr. Mills removes the visible tattoos that typically hinder reformed gang members from getting jobs.
Dr. Mills hopes that his education and experience will not only carry on his family's legacy in the medical profession, but will leave a lasting impression on the lives of his patients and community at large.
View Dr. Daniel Mills Curriculum Vitae
Dr. Mills' Accomplishments as President of ASAPS
As past President of the American Society for Aesthetic Plastic Surgery (ASAPS), Dr. Mills was committed to helping improve the level of care plastic surgery patients receive worldwide. During his tenure, he has headed numerous initiatives intended to strengthen relationships, communication, and data-sharing within the aesthetic medical community—all in an attempt to further the education and expertise of physicians for improved patient care and superior long-term outcomes.
One such initiative Dr. Mills has taken on during his time as President was developing better relations between ASAPS and its sister societies. As part of this effort, he played an integral role in organizing a joint meeting for aesthetic medicine and practice management with ASAPS, the American Society of Plastic Surgeons (ASPS), the American Society for Dermatologic Surgery (ASDS), the American Academy of Facial Plastic and Reconstructive Surgery (AAFPRS), and the American Society of Ophthalmic Plastic and Reconstructive Surgery (ASOPRS). The inaugural conference is scheduled to occur in 2018, with the hope that it will continue as a biannual event for many years to come.
Another goal Dr. Mills set forth to accomplish was initiating a consumer rating system for 510(k) devices, such as CoolSculpting®, Ulthera®, and various other technologies. This rating system allows physicians to grade novel devices on a 1 to 5-star scale based on their experience with the treatment, enabling aesthetic doctors all over the nation to view what their peers have to say prior to purchasing and/or using the technology themselves. To safeguard against false testimony, only physicians who have the instrumentation are able to submit ratings.
Perhaps Dr. Mills' greatest accomplishment is the creation of the Aesthetic Neural Network (ANN) for data collection, which is to be implemented at the 50th anniversary of The Aesthetic Meeting. Designed to automatically extract operative information from a surgeon's practice software, ANN will compile data and correlate it into electronic medical records so physicians can study previous outcomes and review factors such as complications, longevity of results, and more. Eventually, it will be possible to obtain data from up to 15 years prior, providing hundreds of thousands—if not millions—of patient cases for review. The advanced statistics made possible by the Aesthetic Neural Network positions ASAPS as a leader in aesthetic medicine for the foreseeable future while, more importantly, helping practitioners achieve better outcomes for their patients.
"There's no question that in going to all of the regional societies during my tenure, I certainly received huge amounts of education and read papers that have expanded my knowledge base," Dr. Mills says in regard to the positive impact the ASAPS presidency has had on him. "I've also been able to interact with physicians all over the globe to pick their brains about how their practices differ, enabling me to compare, contrast, and ultimately implement methodologies that I believe will be most beneficial for patients at my own practice."
Dr. Mills' term as President of the American Society for Aesthetic Plastic Surgery began in April of 2016 and concluded in April of 2017.
What Is a Plastic Surgeon?
Plastic surgeons are doctors who have completed additional medical training and education to perform procedures that focus on restoration, aesthetic enhancement, reconstruction, reparation, or modification of specific body areas. Dr. Mills is a plastic surgeon who primarily performs treatments designed to cosmetically enhance one's appearance, utilizing his extensive experience and skills to improve the look of the skin, recontour and renew areas of the body, and help patients attain the appearance they desire. To help patients meet their goals, Dr. Mills offers a comprehensive array of surgical procedures for the breasts, body, and face, in addition to a variety of non-surgical cosmetic enhancement options.
Why Choose a Board-Certified Plastic Surgeon?
Dr. Mills is a board-certified plastic surgeon, and this distinction is a very important one. Certification by the American Board of Plastic Surgery indicates that a plastic surgeon has an extensive level of education, training, and experience with plastic surgery procedures. Surgeons who apply for ABPS certification are required to prove their knowledge and abilities through rigorous testing, including both written and oral exams. There are also strict requirements regarding their educational histories and training. Board-certified plastic surgeons must go through the process again every 10 years in order to recertify. By choosing a board-certified plastic surgeon, you are able to increase the chance that you will receive the absolute highest standards of care and safety, as well as results that meet or exceed your expectations.
How to Select the Best Plastic Surgeon for Your Needs
One of the most important stages of your research into the plastic surgery options for which you are considering is the selection of your plastic surgeon. Here are a few tips on specific things to look for while searching for the best plastic surgeon for your needs:
Experience, Credentials, and Background
A surgeon's website typically has a page devoted to biographical information. Take a look through this information to gain a better understanding of the surgeon's history and background. Helpful details include the doctor's educational history, memberships in medical/plastic surgery organizations, board-certifications, awards and honors, and years in practice.
Patient Reviews and Testimonials
Testimonials and plastic surgeon reviews from previous patients can often serve as a very useful window into the type of service you can expect. These are frequently available on the surgeon's website or through third-party online review sites.
Before-and-After Treatment Photos
A gallery of plastic surgery before-and-after photos featuring the doctor's own patients can be an informative tool when it comes to determining their level of skill. These photo galleries can show you the outcomes experienced by patients who may have had the very procedures you are considering, helping you see the potential of specific treatments. If the practice's website does not have a before-and-after photo gallery, you can always ask to see these images when you visit the office.
Once you have a few specific choices among plastic surgeons in mind, it's also very important to meet with the doctor and evaluate your comfort level. Do they listen attentively to your needs and goals? Do you feel that they thoroughly discuss your options and honestly talk with you about risks and benefits? Do they seem compassionate as well as knowledgeable? Do they have a sufficient amount of experience with the specific procedure you are considering? Will the procedure be customized to your needs? These are just a few questions to ask yourself as you meet with the plastic surgeon. The treatment process is a collaboration between you and the surgeon, so you should always feel confident in their abilities and comfortable in their care.
Dr. Mills has decades of experience in plastic surgery and has held many leadership positions in the field. At our practice, Dr. Mills is committed to providing patients with not only the highest standards of safety and exceptional results, but also honest communication and compassionate care. If you have questions for Dr. Mills, or if you would like to schedule an in-person consultation with our plastic surgeon, please don't hesitate to contact the Aesthetic Plastic Surgical Institute today.