Post-Bariatric Surgery
If you have lost a great deal of weight recently, you have completed one of the biggest steps towards leading a healthy lifestyle. Whether through bariatric surgery or through traditional diet and exercise, weight loss is a significant accomplishment, but it can often result in loose excess skin as your body's contour changes. The excess, inelastic skin, as well as stubborn fat deposits after weight loss can be very disheartening. They can even lead to skin infections and problems maintaining hygiene for patients who have lost extreme amounts of weight.
To address these issues, Dr. Daniel Mills offers various body contouring procedures to tighten and tone your body after it has seen the effects of major weight loss. Our post-bariatric and after-weight loss treatments can renew your skin and give you more of the aesthetic results you were hoping for after losing weight. If you would like to set up a consultation to learn more about how these surgical procedures can help you, please feel free to contact us. Dr. Mills would be happy to answer any questions you may have.
Body Lift Procedures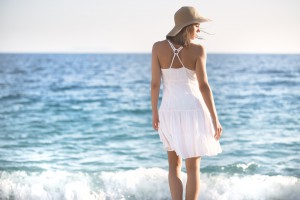 In some cases, patients may need only one or two body contouring procedures to achieve their goals, and in others, a number of procedures may be necessary. Dr. Mills offers many procedures in one comprehensive surgery for a partial or total body lift. Depending on your areas of concern, a lower body lift, an upper body lift or both can be performed. In your initial consultation, any concerns will be addressed, and a plan will be made for moving forward with repairing the residual aesthetic effects of significant weight loss.
Lower Body Lift
In a lower body lift, excess skin and fat are removed from the midsection, which includes such areas as the abdomen, flank, hips and thighs. The combination of procedures, including the tummy tuck and thigh lift, entails an incision across the lower abdomen, extending down to the inner thighs. Once the excess tissue is removed, the remaining skin is pulled taut for a smoother, more toned midsection.
Upper Body Lift
An upper body lift is designed to eliminate sagging skin and fat on the arms, back and breasts. By combining smaller procedures, Dr. Mills is able to completely transform his post-weight loss patients. The upper body lift can be done alone or in conjunction with the lower body lift for a more dramatic makeover.
Other Body Lift Procedures
Aesthetic Plastic Surgical Institute offers a number of surgical procedures to address the effects weight loss has had on the upper and lower body. For candidates of the lower body and upper body lift, a few procedures can be done at one time or in stages for a comprehensive body contouring makeover. The following procedures can be performed alone or in combination to provide a more defined shape for our post-bariatric surgery and after-weight loss patients:
Arm Lift: Also known as a brachioplasty, an arm lift defines the upper arm area by removing excess skin and tightening the remainder for a smoother appearance.
Breast Augmentation with Implants: A breast augmentation enhances the breasts by adjusting the shape and size for a fuller, more proportionate look.
Breast Lift: Also known as a mastopexy, a breast lift reduces excess skin and improves the appearance of sagginess. The remaining skin is tightened and the breasts restored to a firmer, more youthful appearance. The procedure is often supplemented with a nipple lift, and it can be combined with breast implants to add volume and enhance contour.
Breast Reduction: To alleviate the pain, discomfort, and self-consciousness that often comes with having breasts that are too large for your body frame, a breast reduction can be performed with results that are more proportionate to your body.
Facelift: The facelift procedure helps restore a more youthful, refreshed appearance by smoothing out wrinkles and firming up sagging skin.
Liposuction: Liposuction removes excess fat pockets in virtually any body area to improve body contour.
Thighplasty: To eliminate excess, sagging skin in the thighs, a thighplasty can be performed. This treatment tightens the skin of the upper legs for a more toned appearance.
Tummy Tuck: As significant weight loss often leaves folds of loose skin drooping on the abdomen, a tummy tuck is performed to eliminate excess tissue and tighten abdominal muscles. The remaining skin is pulled taut, which can ultimately lead to a flatter, more fit-looking abdomen.
Dr. Mills will help you throughout the decision-making process, addressing any questions or concerns you may have. During the consultation period, your goals will be established and a surgical plan will be put into motion. Based on your unique needs, Dr. Mills will recommend specific procedures that can help you achieve your desired results.
The Recovery Period
Recovery varies according to which procedure or combination of procedures is performed, as well as the extent of each treatment. With any surgical procedure, some degree of scarring will result. Since this is unavoidable, Dr. Mills is often able to place incisions in areas that can be concealed as easily as possible. Plus, he will make every effort to make residual scarring as light as possible. More specific recovery details will be explained in your consultation with Dr. Mills once the treatment plan has been established.
Post-Bariatric Surgery and Body Lift FAQs
Will loose, excess skin contract over time on its own?
Unfortunately, the loose, extra skin left behind after massive weight loss will not significantly contract on its own for most patients, no matter how well they eat or regularly they exercise. Though some individuals whose skin is younger and more elastic/resilient may notice minor improvements, this natural tightening effect is typically not enough to resolve the issue when a considerable amount of weight has been lost. Instead, the vast majority of women and men troubled by excess, hanging skin will require surgery if they desire to fully resolve the concern and achieve a tighter, more toned aesthetic.
Are body lifts only for people who have undergone bariatric surgery?
No—body lifting can be an appropriate treatment option for anyone who wishes to eliminate lax, excess skin from various areas of the body, regardless of whether or not they underwent bariatric surgery. In fact, many of Dr. Mills' body lift patients are individuals who lost a substantial amount of weight through diet and exercise alone, as well as moms who have loose, extra skin as a result of the physical changes that often accompany pregnancy.
What areas of the body can be addressed with a body lift?
An upper body lift is designed to remove excess skin (and often stubborn pockets of fat) from the back, breasts, and arms. A lower body lift is designed to do the same in abdomen, flanks, hips, and thighs. If a patient has extra skin in both the upper and lower regions of their body, a total body lift can often be performed to comprehensively address all areas of concern.
How much weight can be removed with a body lift?
Body lifting should never be thought of as a weight loss surgery. That said, since excess skin (and sometimes small quantities of fat tissue) is removed during the procedure, body lift patients will generally notice a relatively minor decrease in overall weight. This is particularly true for individuals undergoing a total body lift after bariatric surgery or massive weight loss, which may remove as much as 10–20 pounds worth of skin and tissue in some cases. Once again, however, the purpose of a body lift is not to lose weight, so this should not be the main goal of one's treatment.
Will there be a lot of scarring after body lift surgery?
The formation of scars is an inevitable part of any surgery, but Dr. Mills will do everything he can to make all body lift incisions in discreet locations so that any residual scarring will be as inconspicuous as possible. He will also provide instructions on how to properly care for scars as they heal, which can help improve their final appearance. In general, body lift patients are able to conceal all signs of scarring underneath most articles of clothing, and the majority of individuals find that the outcome of the procedure far outweighs any reservations they had about scars in the first place.
Contact the Aesthetic Plastic Surgical Institute
Dr. Daniel Mills is proud to offer cosmetic surgery for those who have successfully lost a large amount of weight and want to recontour their bodies for a firmer, more fit appearance. If you would like to learn more about post-weight loss body contouring surgery, or if you would like to schedule a consultation, please contact us today.