Breast Augmentation
Many women wish to increase the size and/or fullness of their breasts to make them more proportional to the rest of their body. Women of all ages come to our office desiring to enlarge their breasts for a number of reasons. Generally, women that have a genetic pre-disposition toward small breasts tell us that they desire to better fill out their clothes or bathing suits. Women that have lost breast volume after weight loss or breast-feeding typically tell us that they want to regain their breast fullness and/or cleavage. In all these cases, breast augmentation is usually the optimal way to increase your breast size, which can improve the way you look and feel about yourself.
Breast Augmentation Procedure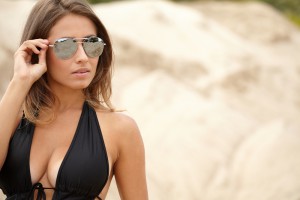 There are many surgical approaches for breast augmentation, which include inconspicuous incisions in the armpit, underneath the breast (just above the crease), around the areola or in the belly button. Dr. Mills can perform all these approaches, but prefers the transaxillary approach. Referred to as a TransAxillary SubPectoral Augmentation (TASPA), this technique involves making a small incision in the armpit to place a breast implant beneath the chest wall muscle. Dr. Mills feels that a TASPA generally yields the most natural-looking result with minimal scarring.
Breast augmentation surgery can help you achieve a shapelier, more feminine figure. View our before and after photo gallery to view our results. If you would like more information about the breast enhancement procedures we offer, please contact Aesthetic Plastic Surgical Institute today.
What to Expect
During your consultation and other pre-operative visits, you will select your implant size and type. Dr. Mills will review all of your implant options and provide you with pictures and suggestions, but ultimately you will choose which style and size that best fits your needs. To aid you in the decision, you will be given the time and opportunity to try on different 'breast sizers,' which will give you a better idea of how your new shape will fill out your clothing and bathing suits. (We recommend that you bring different types of shirts to your initial consultation to try on with the breast sizers and see your "enhanced" look.) It can also be helpful for you to bring in pictures of breasts that demonstrate what your expectations are for the outcome of the surgery. Dr. Mills can review these with you and let you know if this would be a realistic result for you.
Breast implants will not last forever and will likely need to be replaced with a subsequent surgery. The FDA approved silicone implants for breast augmentation surgery in November 2006, following years of controlled clinical studies called the Adjunct Studies. All women age 22 years and older have the choice of using saline-filled implants of silicone gel-filled implants. Saline implants are made of a silicone shell and filled with sterile saltwater. Silicone gel-filled implants are made of a silicone shell and filled with a cohesive silicone gel. Silicone is a naturally occurring element found in sand, quartz and rock. Silicone can be manufactured in a variety of ways, including oils, gels and solids. Silicone products have been shown to be bio-compatible, reliable, flexible and easy to sterilize, making them an ideal choice for implantable and non-implantable medical devices. You can also talk with Dr. Mills about the latest in implant research and development, including the form stable cohesive gel implant. If you have any implant-related questions or concerns, Dr. Mills would be happy to discuss these and provide you with information on the latest research.
Once you have chosen your implant size and type and schedule surgery, you will meet with our pre-operative patient coordinator. She will review all of your pre-operative instructions with you and make sure that you complete all the necessary laboratory tests and health screenings, based on your personal medical history and surgical plan. If you are a smoker, you will be advised to quit smoking at least two weeks prior to surgery and not to resume for at least two weeks after surgery. Additionally, there are certain medications, herbs and potions that she will ask you to cease taking from two weeks prior to surgery to two weeks after your surgery. This appointment will also be a time for you to ask any final questions, so that you are physically and mentally ready for surgery and have an optimal recovery period.
"I wanted to let you know how happy I am with your work (my new breasts) and how very thankful I am to you and your staff for taking such wonderful care of me. You have a very calming and nurturing way about you that instantly put me at ease. You are a man of compassion and that combined with your vast talent makes you a marvelous doctor and person. I am so happy and thankful." – J.L.*
Surgery
On your surgery day, you should allow approximately 4 hours for pre-operative surgical admission, surgical time and post-surgical recovery. Our surgical team, including Dr. Mills, a nurse anesthetist or anesthesiologist, a registered nurse and surgical technician will be with you throughout your surgery and recovery. We ask that you have a responsible adult accompany you to and from the surgery center. This individual should be accessible by phone while you are in surgery and should be at our facility when you are ready to be discharged. After your surgery, you should have someone with you for the first 24 hours.
Post-Operative Information
You will have an office visit the day following your surgery, as well as several post-operative visits within the first week. These appointments are extremely important and we encourage you to come to our office regularly for the first week or so, for additional help with your post-operative regime. Your post-operative regime includes displacement exercises to keep the breast pocket open, which should result in softer and more natural-looking breasts. Dr. Mills and his medical staff will assist you in the displacement exercises during these initial post-operative visits.
At first, these exercises may be a little difficult, but we will take as much time as you need to feel comfortable with the exercises. It is often helpful to have a friend or spouse assist with the exercises, so we encourage you to bring them to your follow-up visits. Dr. Mills strongly feels that these exercises are critical to yielding the best result, while minimizing potential complications.
At your first post-operative visit, Dr. Mills will remove your surgical bra and wrap before assisting you with your exercises. Dr. Mills will determine what post-operative garment you should wear at this time. After this initial visit, you will be able to shower. You will usually have two sets of sutures, which will be removed at post-operative days 7 and 14, respectively. You will be advised not to use deodorant for the first 2 weeks, but can use a non-scented liquid deodorant after that time, treating the suture line with care. In the first couple of weeks, Dr. Mills will continue to monitor your progress and advise you in your post-operative regime and instructions. It is exceptionally important that you come to all recommended post-operative visits in order to minimize post-operative risks and and achieve optimal results.
The most common complication associated with breast augmentation is capsular contracture. This condition, which involves a tightening of the scar tissue around the implant, may result in varying degrees of breast firmness, pain and change in breast appearance. While the national average for capsular contracture is 10%, Dr. Mills has maintained an average rate of 5.9% since the start of his practice. Other risks include implant rupture or leakage, changes in nipple or breast sensation (both temporary and permanent), and adverse reactions to anesthesia.
Within a short time following surgery, you will be able to resume your normal routine and enjoy your new shape. If you want to show off your new shape by summertime, we recommend that you schedule your surgery in the spring (or before). Springtime is the busiest time of the year in our office for that very reason.
Schedule Your Consultation
We look forward to meeting you in consultation to develop a surgical plan that best suits your needs. Please contact our patient coordinator to schedule your one-one-one consultation. When you speak with our patient coordinator she can direct you to view the Breast Augmentation Video Consultation online. Dr. Mills wants this to be a great experience for you and his staff will do everything we can to serve you.