Botox® Cosmetic

More and more patients are opting to have non-surgical procedures, such as BOTOX® and collagen to treat different areas of the face with very little downtime. Dr. Mills uses botulinum injections or "BOTOX®" to treat frown lines, forehead furrows, "crow's feet" and lines and wrinkles of the lower face. BOTOX® most effectively treats lines and wrinkles caused by the muscles, specifically the muscles that contract during facial expressions (i.e. frowning and squinting). Dr. Mills recommends BOTOX® as "preventative maintenance," meaning that it can treat early signs of aging by minimizing wrinkles and lines to become more pronounced by restricting their source (i.e. the muscles that form the lines and wrinkles.)
Brilliant Distinctions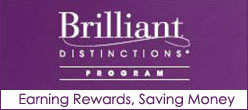 Click here to find out how you can receive exclusive invitations, special offers and savings on your Botox and Juvederm treatments.
What to Expect
Since gaining FDA approval in March 2002 for cosmetic use, BOTOX® has widely become one of the most popular of treatments. (BOTOX® has been FDA-approved for other indications for over 12 years.) In fact, there were over 1,200,000 injections in 2002.
To administer BOTOX®, Dr. Mills will ask you to contract the muscles in the area(s) to be treated and will inject BOTOX® directly into the muscle with a tiny needle. The procedure itself is typically very quick and almost painless, but takes a few days to take effect. The effects of each BOTOX® injection typically lasts about 3 months, after which another treatment will be required to maintain the results. Results vary, Dr. Mills has seen BOTOX® last as little as a month and as long as a year. Results are a direct response to how strong the muscle is and how many units are used.
When considering BOTOX®, it is important to note that injection technique is highly important in achieving an optimal result. It is crucial to go to an American Board of Plastic Surgery certified physician or physician's assistant to ensure an optimal result. Possible side effects include temporary droopy eyelids, swelling, bruising, burning sensation and short-term headache.
"I've been receiving Botox Therapy for a few years now. After my treatment facility closed in Newport Beach, I was pressed to find another doctor. That's when I found Kim at Dr. Mills office! Highly trained, extremely knowledgeable and with a gentle touch, Kim is fantastic. I'm extremely pleased with my results!"*
Frequently Asked Questions
How long does BOTOX® last?
For most patients, BOTOX® lasts on average 3 – 6 months. Most patients who repeat treatments every 3 months for the first few injections comment that they see it last about 4 months thereafter. We have some patients that only require injections twice a year. In rare cases, a patient may be resistant to BOTOX®. Each patient responds a little differently.
Do the wrinkles go away immediately after a BOTOX® injection?
BOTOX® injections usually take 3 – 7 days to start restricting the muscles. After the BOTOX® takes effect, some of your lines will disappear completely and others should be minimized.
Will my wrinkles come back stronger after a BOTOX® injection?
No.
Does the BOTOX® injection hurt?
The injection should barely hurt. Dr. Mills and his specially trained staff use very small needles and have a gentle touch.
Will I be able to make facial expressions after a BOTOX® injection?
Yes. Dr. Mills does not like to inject so much BOTOX® into your face that you lose facial expressions. He is usually conservative, especially on your first injection.
Will there be bruising after a BOTOX® injection?
The forehead and brow do not bruise. However, the crow's feet can possibly (but rarely) bruise. Dr. Mills has his patients hold pressure around the eyes with the palm of their hand for 10 – 15 minutes right after the injection to prevent bruising. Additionally, he recommends that his BOTOX® patients stay off Aspirin. If the injection does cause bruising, it is easily concealed with camouflage makeup.
How much BOTOX® will I need?
Dr. Mills administers BOTOX® by the unit. The number of units that you need will depend on the number of areas and strength of muscle contraction. Dr. Mills follows recommended manufacturer's standards to draw the BOTOX® to maximize the efficacy of the BOTOX® injection. He uses the information and response from your last treatment to develop the right recipe for you.
Contact Our Office
Please contact our practice for more information or to schedule an appointment at our Laguna Beach, Orange County California plastic surgery office.