Beauty for Life
A Pyramid for Healthy Living and Maintaining a Youthful Appearance
For many people, looking and feeling young and healthy throughout their entire lifetime is a top priority. However, it's just inevitable that the natural process of aging, exposure to the elements, heredity, and other factors will have their effects on our bodies and our skin. Dr. Daniel C. Mills has developed a helpful guide to maintaining your beauty throughout the years, offering you an educational tool to provide you with information and ideas that can keep you looking great at any age. Take a look at Dr. Mills' Beauty for Life Pyramid and discover how you can continue to have a youthful and healthy appearance by maintaining a solid foundation and building from the ground up!
Please contact Dr. Mills for more information on maintaining Beauty for Life, or to schedule a consultation at our Laguna Beach practice.
The Beauty for Life Pyramid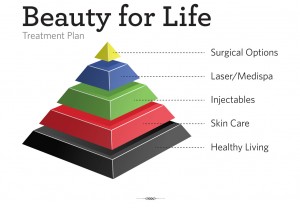 A great foundation for maintaining our beauty for many, many years is built with a healthy lifestyle. Effective skin care is another important layer on top of that foundation, giving you the opportunity to keep your skin looking healthy and fresh for a very long time. However, as we age, some people may need a little help in keeping a youthful, vibrant appearance, and that's why professional cosmetic enhancement treatments can be an excellent complement to your home health and beauty regimens. See how you can maintain your beauty throughout your life by starting with the most important building block – your health.
Healthy Living
Healthy living is the most important tool to ease into the natural process of aging without sacrificing your appearance. Here are a few areas to focus on to help you maintain a healthy lifestyle:
Skin Care
Good skin care is the next level on the Beauty Pyramid, and regular home skin care routines with effective products can go a long way in giving your skin a healthy sheen. But, since aging is an unavoidable fact of life, there are comprehensive skin care treatments available that can provide you with significant rejuvenation that may be even more effective than at-home skin care products. Here are just a few that can help:
Laser / Medispa Treatments
The next layer of the Beauty Pyramid focuses on skin care treatments and subtle body contouring procedures that are designed for patients who may require stronger treatment options to reduce signs of aging and skin damage. The following procedures are non-invasive and can significantly improve areas of the body affected by age, damaged skin, or pockets of excess fat:
Injectable Treatments
Okay, you've accomplished the first few levels on the Pyramid, and yet you are noticing signs of age, fatigue, and stress become more apparent in your facial features. This is where cosmetic injectables and dermal fillers can give you significant aesthetic enhancement – without invasive surgery. Whether you need to diminish fine lines and deep wrinkles along the face, or if you would like to plump up and recontour areas such as the lips and cheeks, cosmetic injectable treatments can provide you with beautiful results that last for months, and even years*.
*Individual results may vary
Surgical Options
At a certain point, you may find that you are having trouble keeping the signs of age at bay. Or, you may just want to completely renew your appearance or recontour specific body areas. Surgical options are at the very top of the Beauty Pyramid, and can give you significant rejuvenation with very long-lasting results*. These procedures can take years off your face, give the breasts a more youthful and sensual aesthetic, or eliminate stubborn fat deposits and lift and tighten areas of the skin for a smoother, more fit appearance:
Facial Rejuvenation:
*Individual results may vary
Breast Enhancement:
Body Contouring:
When considering plastic surgery, please make sure you speak with a board-certified plastic surgeon who has the credentials and experience necessary to provide you with safe care and natural-looking results. Dr. Dan Mills is certified by the American Board of Plastic Surgeons and has spent decades combining the skills of a surgeon with an artist's eye to help patients attain their aesthetic enhancement goals.
Contact Our Office
We hope the Beauty Pyramid has been of some guidance in helping you see how you can maintain Beauty for Life. Please contact the Aesthetic Plastic Surgical Institute for more information. You can also schedule a consultation with Dr. Mills and he can come up with an effective treatment plan for your needs. We look forward to answering your questions.