CoolSculpting®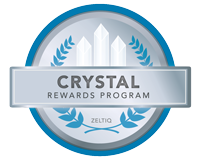 Thanks to a new, FDA-approved non-invasive alternative to liposuction known as CoolSculpting®, Dr. Daniel C. Mills can now gently and easily reduce excess fat in the abdomen, waist, back, and other areas. The procedure is often quick, virtually pain-free, and offers a remarkably quick recovery.
What is CoolSculpting®?
CoolSculpting® uses advanced cooling technology to effectively target and eliminate fat cells without harming surrounding tissue. The damaged fat cells are broken down and slowly digested over the next few months, so the body disposes of them naturally. CoolSculpting® can be an ideal solution for patients who are apprehensive about invasive surgery, or only desire a smaller, more selective area for treatment, making it easy to remove those unwanted areas of fat that just won't go away from exercise or dieting.
Please contact our board-certified plastic surgeon in Laguna Beach to schedule a consultation for CoolSculpting® treatment.
How Can I Benefit from CoolSculpting®?
There are many potential advantages associated with CoolSculpting®, including:
Non-surgical procedure – no needles, surgical cutting, or anesthesia is necessary
Many patients experience little to no discomfort during the procedure
Tissues surrounding the targeted area should remain unharmed
There is typically no need for an extended recovery period; most patients are able to immediate resume normal daily activities
CoolSculpting® can also serve as an effective complement to other procedures available at our practice, such as breast enhancement or non-surgical medical spa options. In addition, this treatment can be part of a comprehensive Mommy Makeover for patients who want to restore their pre-pregnancy figures.
What Body Areas Can CoolSculpting® Treat?
CoolSculpting® can be utilized on a variety of body areas, including the abdomen, hips, love handles, inner and outer thighs, knees, and upper back. Once you come in for your initial consultation, we will talk with you about your goals and perform a thorough evaluation. If CoolSculpting® is the right option for your needs, we will create a customized treatment plan designed to meet your goals.
While CoolSculpting® has proven to be a highly effective procedure, it's important to note that this treatment is not designed as a weight loss option. Most individuals who are candidates for this procedure are already at or near the average healthy weight for their bodies. CoolSculpting® is often a good option for individuals who simply want to address isolated pockets of fat that have been resistant to diet and exercise routines, and for those who may be able to achieve their goals without invasive procedures such as liposuction.
How is the CoolSculpting® Procedure Performed?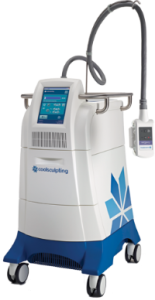 During the CoolSculpting® procedure, Dr. Mills uses a technology called Cryolipolysis™, developed by dermatologists at Harvard, to cool excess fat cells in a target area. An applicator is pressed against the skin during the procedure, which allows for an inflammatory process to occur. The cooling device draws tissue into a cup with mild, vacuum-like pressure. Surrounding tissues should be unharmed during the treatment. Although there may be a slight uncomfortable feeling as the cooling device touches the skin, any discomfort is usually brief.
As the fat cells start to break down, they are filtered out of the body naturally through the liver in a process known as "apoptosis." Essentially, your body's natural metabolism should get rid of the treated fat cells gradually over the next several months, and the aesthetic results should become apparent during this time.
In many cases, patients only need a single CoolSculpting® treatment to attain optimal results. However, some individuals may require multiple treatment sessions to meet their needs. The number of treatments necessary will depend on each patient's goals and their response to the procedure. Dr. Mills recommends that patients wait at least three to four months before scheduling an additional treatment session to give the initial CoolSculpting® procedure enough time to produce results.
What Can I Expect During CoolSculpting® Recovery?
Because it is a non-invasive procedure, the recovery process following a CoolSculpting® treatment typically involves little to no downtime. You may experience some redness, irritation, and bruising in the treated area, but it should subside quickly. Most of our patients are able to resume normal daily activities, even work and exercise regimens, on the same day as the procedure.
When Will I Be Able to Notice my CoolSculpting® Results?
Best results are typically visible to most patients in two to four months. Since the CoolSculpting® treatment is designed to produce gradual results over time, some patients may even continue to see improvement up to six months or more following the procedure.
The final results of CoolSculpting® can last exceptionally long periods of time by exercising regularly (as recommended by your primary care physician) and maintaining a healthy diet.
What is the Cost of CoolSculpting®?
The final cost of CoolSculpting® varies from patient to patient. Each individual has different needs and goals, and the treatment is customized; therefore, the overall price of CoolSculpting® is contingent upon one's treatment plan. A variety of factors will be taken into account, including the number of treatment areas, the geographic location of the practice, the provider's experience level, and other components. While the national average price of CoolSculpting® tends to fall in the $2000 to $4000 range, it's important to remember that the cost for some patients may end up being below that range. As noted above, the price is highly dependent on the individual treatment plan.
Our team believes that effective cosmetic enhancement options from qualified professionals should be within reach of everyone, regardless of their financial situation. That's why our practice accepts many different types of payment and works with PatientFi™, a company that offers convenient plastic surgery financing options to qualified applicants who wish to pay for their procedures over time. Once your treatment plan is developed, a member of our medical team will produce an overall cost estimate and discuss your options with you.
CoolSculpting® FAQs
Do you have additional questions regarding CoolSculpting®? Take a look at our CoolSculpting® Consumer FAQs page to find detailed answers to some of the most frequently asked questions.
If you would like more information, or if you would like to schedule a CoolSculpting® consultation, please don't hesitate to contact the Aesthetic Plastic Surgical Institute today!