KYBELLA® Non-Surgical Treatment for a Double Chin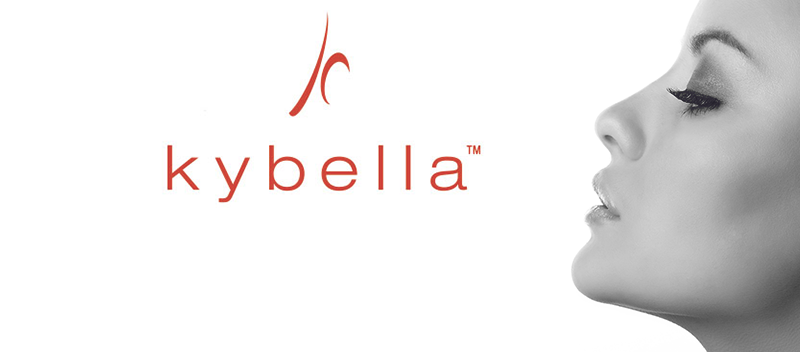 Excess fat under the chin, commonly referred to as a "double chin," can be difficult—if not impossible—to eliminate with traditional diet and exercise routines. While surgical intervention (such as liposuction) has typically offered the most effective treatment for reducing the appearance of a double chin, a new procedure called KYBELLA® is proving to be quite revolutionary. KYBELLA is the first, and only, non-surgical treatment designed to eliminate excess fat under the chin that has been approved by the U.S. Food and Drug Administration. It involves no surgery of any kind, and it can be performed right here at the office of board-certified plastic surgeon Daniel C. Mills, MD in about 30 minutes or less. This injectable treatment can beautifully enhance your facial profile with potentially permanent results.
What Is KYBELLA®?
KYBELLA is an injectable solution designed to reduce submental fullness (excess fat in the upper area of the neck and under the chin). The solution is composed of a natural molecule found in the human body called deoxycholic acid. This molecule helps break down dietary fat. KYBELLA injections target the excess fat cells and work to destroy them. Once this occurs, the fat cells are filtered out of the body through natural processes.
What Are the Benefits of KYBELLA®?
KYBELLA offers a variety of benefits for patients, including:
Noticeable reduction of excess fat beneath the chin for a more contoured appearance
Treatment time is minimal and can be completed here in the office
No surgery is necessary
Little to no downtime is typically required
Extraordinarily long-lasting results
Dr. Mills will meet with you for an initial consultation to answer your questions and determine if KYBELLA is right for your needs.
Am I a Candidate for KYBELLA®?
This treatment can be very effective for individuals who have excess fat under the chin; however, patients who are suffering from a double chin due to excess, inelastic skin rather than fat may not be candidates for the KYBELLA procedure. In these cases, a surgical lifting technique may be the better option. This can remove excess skin along the neck and under the chin while tightening the remaining skin for a smoother, more youthful result.
Ideal candidates must also be in reasonably good general health before undergoing this treatment. During the initial consultation, Dr. Mills will evaluate your needs and suggest alternatives if KYBELLA is not the best option for your goals.
What Does the KYBELLA® Procedure Involve?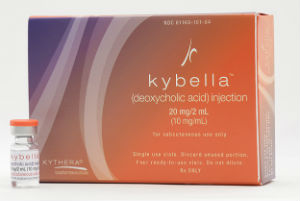 The KYBELLA solution is injected with a very fine needle into targeted areas of the chin. These areas of skin can be numbed before the procedure in order to minimize discomfort. Once the solution has been injected, the targeted fat cells' ability to store and accumulate fat should be destroyed, and the excess fat should gradually fade away.
Depending on your individual needs, two to four KYBELLA treatment sessions may be necessary for the best possible results.
Most KYBELLA procedures only take about 15 to 20 minutes to complete; however, every patient is different, and the length of treatment will ultimately depend on the size of the targeted area.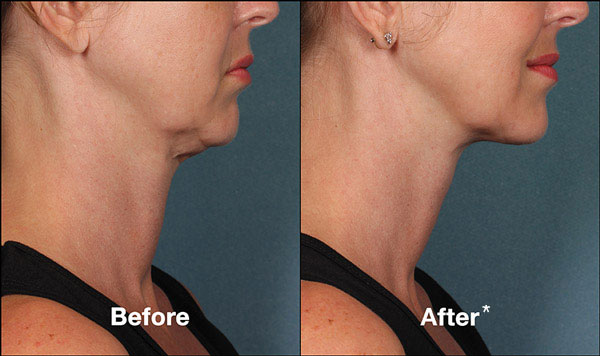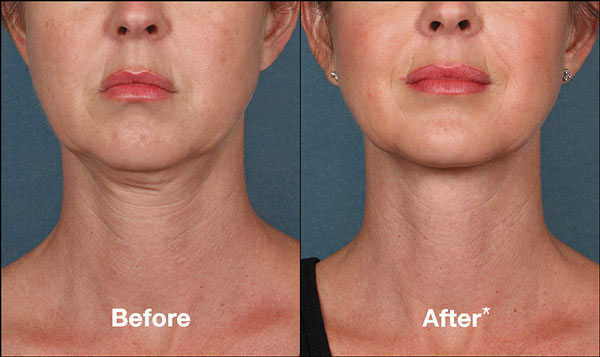 Are There Side Effects from KYBELLA®?
Some swelling, redness, and minor bruising may be present after the injections, but these effects should dissipate within a few days. Most patients do not require extensive recovery time after KYBELLA treatment, and are able to return to normal daily activities within one or two days.
How Long Do Results from KYBELLA® Last?
One of the most prominent benefits of KYBELLA is the treatment's ability to create lasting results that do not require retreatment to maintain the outcome. With that in mind, patients should be mindful about keeping to a healthy diet and routine exercise regimen in order to help ensure the results last for decades.
How Much Does KYBELLA® Treatment Cost?
The total cost of KYBELLA will be calculated based on your customized treatment plan. Each patient's treatment plan is different depending on the number of KYBELLA treatment sessions and the number of injections necessary for the best results. National estimates of the price of KYBELLA typically range from about $1,200 to $1,800; however, as noted above, this procedure is customized for each patient and the total price will ultimately depend on your individual needs. After Dr. Mills has examined you and determined the most ideal treatment program, a member of our team will produce a comprehensive cost estimate. Our practice accepts an extensive array of payment methods, and we work with a plastic surgery financing company that offers convenient payment plans for qualified applicants who would like to finance the KYBELLA procedure. We look forward to answering any questions you may have.
KYBELLA is a truly significant advance in the field of cosmetic enhancement. This treatment offers a convenient and effective way to reduce the appearance of a double chin with results that enhance your facial contours for many years to come. To learn more about the advanced KYBELLA treatment, or to schedule a consultation here at our practice, please contact us today.