Cellulite Reduction with QWO® Injections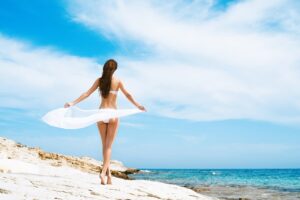 For decades, there were very few effective options for the treatment of cellulite. But that's been changing… and the team here at Aesthetic Plastic Surgical Institute is very excited to announce the arrival of a new, non-surgical treatment for signs of cellulite in the buttocks (one of the most common areas to develop the condition). QWO® cellulite reduction treatment offers a revolutionary way to combat the telltale dimples and depressions in buttock tissues and create a smoother look. No surgery or anesthesia is required for QWO® treatment. In fact, all the procedure involves is a series of injections, and most patients are able to get right back to their daily routines following the treatment.
Over the last few years, innovative procedures such as Cellfina™ have proven successful at minimizing signs of cellulite for many patients. QWO® offers women a new alternative that's designed (and FDA-approved) specifically for cellulite that appears on the buttocks. The QWO® solution is composed of collagenases, which are enzymes believed to be capable of targeting and releasing fibrous bands in buttock tissues that pull the skin down and create dimples. The solution is also designed to redistribute fat cells and promote the growth of new collagen in areas affected by cellulite. When precisely injected into the targeted areas, QWO® can ultimately work to reduce signs of cellulite and make the skin appear smoother.
For the best results, a series of three separate QWO® injection procedures is necessary. The second treatment will be scheduled about three weeks after the first, and the final procedure will follow about three weeks later. Each session of injections usually only takes about 10 minutes to complete and can be performed right here at our office.
You can learn more about QWO® treatment here, and please don't hesitate to contact us for additional information, or to schedule a consultation to determine whether you are an ideal candidate for this treatment. QWO® is a truly state-of-the-art new option for cellulite reduction, and we are thrilled to offer it to our patients here in Orange County!
Contact Us Today!
For more information, or if you wish to schedule a consultation with Dr. Mills, please don't hesitate to contact our office today.
Contact Us