Sientra® Breast Implants
Cohesive gel or "gummy bear" implants have had limited availability in the United States for several years. However, the U.S. Food and Drug Administration has recently approved one of the more innovative types of cohesive gel implants, and it is offered right here at the practice of Dr. Daniel C. Mills. Sientra® Cohesive Gel Breast Implants have a unique difference that makes them stand apart from traditional saline or silicone implants for breast augmentation: the gel inside the outer implant shell is form-stable, and therefore able to hold its shape. This can allow for a more natural look and feel, as well as less risk in the unlikely event that the shell ruptures.
Additionally, Sientra® cohesive gel breast implants are available only to board-certified plastic surgeons. This is significant because other breast implant companies sell their implants to non-board-certified and even non-plastic surgeons. According to Sientra®, the breast implant warranty becomes void if the Sientra® implants are not placed by a board-certified plastic surgeon.
Benefits of Sientra® Implants
Many patients are pleased with the beautiful results they are able to achieve with Sientra® implants. Their unique design has been shown to reduce the risk of rippling or deflation when compared to saline implants, and they can result in an appearance that looks very natural. Sientra® implants also come in different shapes and sizes, and can have either a textured or smooth shell. The variety of options allows Dr. Mills to select the appropriate implant that is right for you.

Round Sientra® implants may be best for patients who have had prior breast augmentation surgery, leaving the breast pocket too large to accommodate a shaped implant safely. These implants can help to add volume to the upper area of the breast. Those that want a lot of roundness in the upper pole of the breast would need a more round implant that is also a higher profile implant.
Shaped Sientra® implants can provide a very natural look. As they are rounded at the base and curve inward toward the top, they are referred to as "teardrop" implants. This teardrop shape can allow the implant to blend easily with the chest, creating a natural appearance.
Sientra® shaped implants also offer three different base shapes, allowing for a customized look:
Round base
Oval base
Classic base
Depending on your body type and aesthetic goals, Dr. Mills will help you to select the shape that will best meet your needs.
Textured shells are believed to help reduce the risk of capsular contracture, a complication associated with implants where scar tissue forms around the implant, often causing a hardened feel. For shaped implants, it is usually recommended to use a textured shell. The textured shell helps to keep the implant in place, avoiding the possibility of flipping and causing a deformed appearance to the breast.
Smooth shells are a traditional choice for implants. The shell is generally thinner, meaning that the implant will feel softer. These implants tend to provide longer-lasting results. Round implants will usually come with a smooth shell, as they can move freely in the breast pocket without changing the appearance of the breast.
Selecting the Right Implant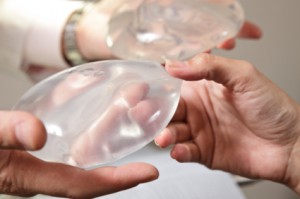 Dr. Mills spends ample time with his patients to ensure he understands the exact look they prefer. He has long been known for results that are very natural looking, which he sees as having a little more volume below the nipple line and less rounding at the top of the breast that can easily be identified as a breast implant. A smooth wall, lower profile implant can be the best choice for a patient who desires this natural look. However, as breast augmentation has become more popular, some women prefer the look of a rounded breast at the top and have no problem with someone being able to surmise that they have implants.
Dr. Mills will review every patient's goals and help them decide which type and style of implant will best fit their needs.
Schedule a Consultation
If you are interested in learning more about Sientra® cohesive gel implants and how they might be able to help you achieve the beautiful results you desire, please contact the Aesthetic Plastic Surgical Institute today to schedule a consultation with Dr. Dan Mills.