Pavlo Isak, MD
Meet Dr. Pavlo Isak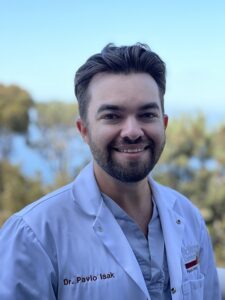 Dr. Pavlo Isak is a skilled plastic surgeon who is experienced with a variety of advanced plastic and reconstructive surgery procedures. Dr. Isak joined our practice as a Plastic Surgery Aesthetic Fellow after completing his residency in Plastic Surgery at the prestigious McMaster University in Canada. Dr. Isak has performed thousands of surgical procedures across a range of specialties, and has a particular passion for aesthetic plastic surgery and reconstructive treatments. Throughout his education and training he has served in numerous leadership and mentorship positions, such as Resident Surgical Skills Instructor in the Department of Surgery at McMaster University.
Dr. Isak is committed to providing our patients with customized treatment plans and the absolute best in care. He strives to blend his vast surgical knowledge and abilities with his considerable talents as an artist to create exceptional treatment outcomes. In fact, Dr. Isak's artistic skills have produced medical illustrations that have appeared in published works such as Understanding Breast Reconstruction. Dr. Isak understands that obtaining any kind of cosmetic enhancement procedure is a major decision, and he is dedicated to providing you with the safest possible care and a compassionate approach based on your ultimate needs, goals, and expectations.

Treatments and Services
Dr. Isak has extensive experience in numerous aspects of plastic and reconstructive surgery, including many procedures that can help patients enhance their appearance and contour their bodies with results that look both beautiful and natural. Treatments and services offered by Dr. Isak include:
Education and Experience
Plastic Surgery Aesthetic Fellowship – Aesthetic Plastic Surgical Institute, Laguna Beach, California – 2021
Plastic Surgery Residency – Division of Plastic Surgery, McMaster University, Hamilton ON, Canada – 2017-2021
Otolaryngology-Head and Neck Surgery Residency – Division of Otolaryngology Head and Neck Surgery, McMaster University, Hamilton ON, Canada – 2015-2017
Undergraduate Medical Degree – College of Medicine, University of Saskatchewan, Saskatoon SK, Canada – 2011-2015
Bachelor of Science – Department of Physiology and Pharmacology, University of Saskatchewan, Saskatoon SK, Canada – 2008-2011
Memberships and Affiliations
American Board of Plastic Surgery – Board-Eligible
Fellow of the Royal College of Physicians and Surgeons of Canada – Certified
American Society for Aesthetic Plastic Surgery (The Aesthetic Society®) – Board-Eligible
Aesthetic Surgery Journal – Reviewer
If you would like additional information, or if you are ready to schedule a consultation, please contact Aesthetic Plastic Surgical Institute today.