Sclerotherapy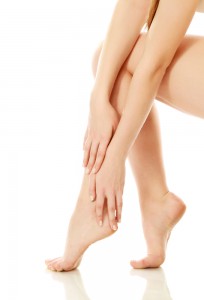 Are you sick of unsightly leg veins? Sclerotherapy may be the answer. Sclerotherapy is a minimally invasive procedure used to eliminate spider veins and reticular veins on the legs. The treatment is performed in our office by a physician assistant and involves an injection of a sclerosing solution through a very fine needle directly into the vein. The solution works by irritating and damaging the endothelium (the cells lining the inside of the blood vessel) causing it to swell and stick together. Over time, cellular debris and platelets cause the blood vessel to clot. Eventually the vessel turns into scar tissue and the vein fades from view.
After your sclerotherapy session, you will be placed into compression stockings to lightly compress the treated area. You will be able to drive yourself home and can go right back to your regular activities. We will encourage you to walk as often as possible for the first 2 weeks. For two to three days following the procedure we will ask you to avoid strenuous exercise, hot baths, hot tubs or saunas, long plane flights and direct sun exposure.
Please contact Dr. Dan Mills for more information on sclerotherapy to treat spider veins and other leg vein issues.
Commonly Asked Questions About Sclerotherapy
What are spider veins?
Spider veins are very small red or blue blood vessels < 1mm in diameter. They are closer to the surface than other types of veins.
What are reticular veins?
Reticular veins are small blue or green blood vessels 1-3mm in diameter. They lie just beneath the surface of the skin.
What causes spider and reticular veins?
When the valves in the leg veins are weak or damaged, blood backs up in the vein causing it to become bigger and more visible. Leaky valves resulting in leg veins can be caused by many factors including:
Heredity. Half of all people who develop leg veins have a family member who also has prominent leg veins.
Age. The valves in the veins can become weak and leaky due to normal aging and wear and tear.
Gender. Due to hormonal changes, women are 2-3 times more likely to develop visible leg veins.
Weight Gain. Being overweight or obese can decrease the flow of venous blood from the lower extremities putting extra pressure on the valves causing them to weaken.
Prolonged Sitting or Standing. This can make it harder for your body to pump blood from the legs back to the heart putting extra pressure on leg veins and valves.
How many treatments will I need?
Studies have shown that 50% to 80% of injected veins may be eliminated with each sclerotherapy session. Spider veins respond in three to six weeks. Larger veins can take three to four months to respond. Some patients may need multiple treatments to see results.
Do I need consultation
Yes. Prior to your sclerotherapy session you will meet with a physician assistant who will review your health history and make sure that you are a good candidate for the procedure. You will also be measured for compression hosiery to wear after the treatment.
Schedule a Consultation for Sclerotherapy
If you would like to schedule a sclerotherapy consultation, please contact us today. We will be happy to answer your questions and help you decide if sclerotherapy will be a good option for your needs.